Subscribe

to Layerform The Best Android Tablet for Drawing (2021 UPDATED)

Drawing Tablets for Android – Which is Best? In a sea of graphics tablets, it's hard to know which one is best. But when it comes to Android it gets even tougher as many top graphic designers often opt for the combination of Apple Ipad + Procreate for their...
Drawing Tablets for Android – Which is Best?
In a sea of graphics tablets, it's hard to know which one is best. But when it comes to Android it gets even tougher as many top graphic designers often opt for the combination of Apple Ipad + Procreate for their illustration work.
That being said, there are some good options out there for those who refuse to be pulled into the apple ecosystem or just simply don't want to get a Wacom Drawing Tablet.
This article will be our very own review on some of the best android tablets for drawing & digital art, so sit back, grab a coffee and take a look at what we think are the best tablets to choose if you're a fan of the little green robot! (aka: Senör Android).
Best Android Tablets for Drawing – Reviews
Samsung Galaxy Tab S7+ – Best Android drawing tablet with Pen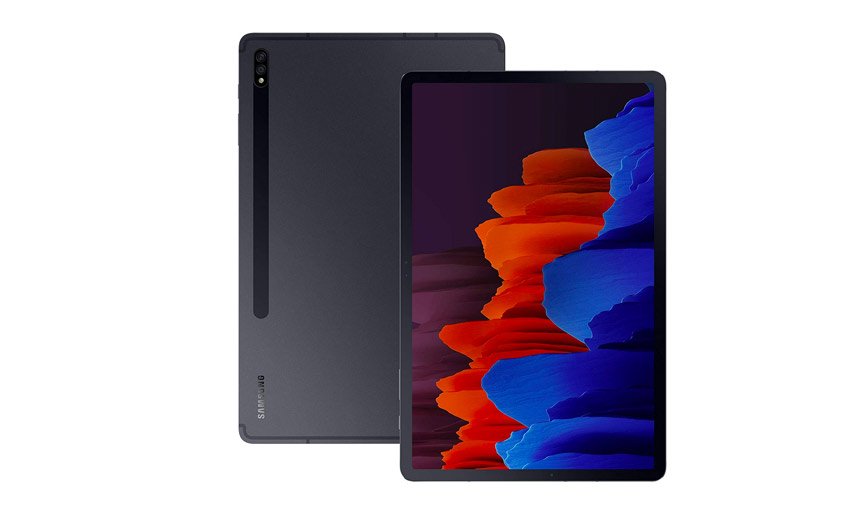 The Samsung Galaxy Tab S7+ is an absolute beast of a tablet, let alone drawing tablet.
It boasts and impressive Super AMOLED screen and has a 2800 x 1752 resolution, alongside a super snappy 9ms pen latency, which beats a lot of the competition hands down.
The total weight of the Samsung Tab S7+ is 575g, and the tablet itself is actually thinner than the stylus, making it an incredibly portable and lightweight drawing tablet, which a lot of the more mainstream drawing tablets just cannot compete with.
The good thing about the Samsung Galaxy Tab S7+ is that is also has a refresh rate of 120hz, which means when using Graphic Design Apps you won't suffer from Stylus Lag when applying pen pressure or when you're doing some speed sketching.
At an average price of $850 it's not the cheapest drawing tablet on this list, but it performs like it should, like a high end tablet; and has all the features you could possibly need for digital drawing.
This tablet works well with apps such as Infinite Painter, and we can only assume that if and when Procreate decide to create an Android version that it will work amazingly with that app also.
Samsung Galaxy Tab S6 Lite – Best Value for Money Android Tablet
Yet another fantastic drawing tablet from Samsung, this time in the form of their Galaxy Tab S6 Lite Tab.
The S6 Lite comes with a 2000 x 1200 (WUXGA+) TFT display resolution and weighs a mere 1.02lbs, which is the lightest of the galaxy tab range, making it an incredibly portable and lightweight graphics tablet that you can take with you absolutely anywhere.
The Galaxy Tab S6 Lite comes with a Exynos 9611, Octa Core (4×2.3GHz + 4×1.7GHz) Graphics Coprocessor which should be more than enough to use various graphic design apps in the play store for things like Typographic Artwork and Digital Painting.
Fortunately this Tab still comes with their S Pen like the S7+ above, which is a fantastic stylus with high pressure sensitivity levels.
Overall, if you're looking for a super lightweight Android Tablet that performs strongly across multiple levels, then the S6 Lite is the one for you.
Lenovo Tab M10 Plus – Cheapest Pen Enabled Tablet
Ranging from $112 – $193, the Lenovo Tab M10 Plus is one of the cheapest pen enabled tablets on this list of best android tablets.
But what makes it worthy of being on this list you ask?
Well let's take a look at some of the specs. It weighs 1.6lbs and has a screen resolution of pure 1920×1080 HD as well as sporting a 2.3 GHz octa-core processor; which is more than enough for the majority of your design related tasks & other tablet-related tasks.
The product dimensions come in at 9.6 x 6.04 x 0.33 inches which makes it one of the smallest and most portable drawing tablets around at the moment. Fantastic if you want to sketch out some quick ideas before meeting an important client or just in your spare time.
Samsung Galaxy tab S6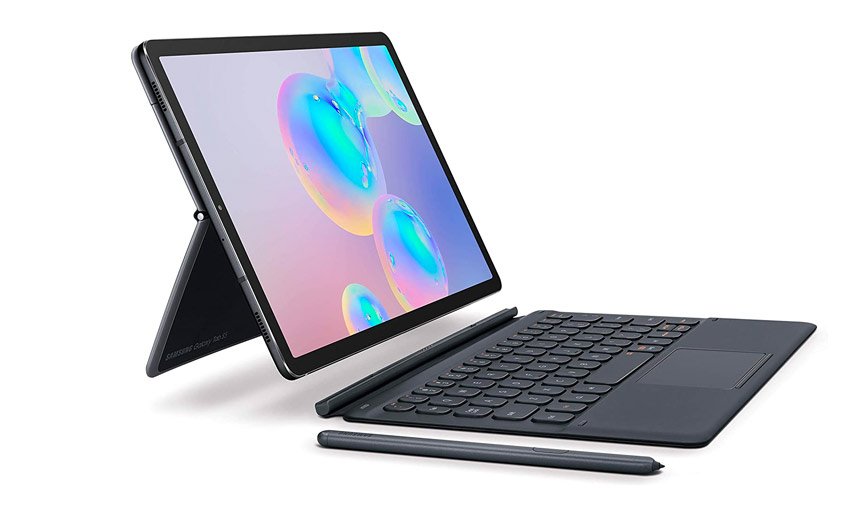 For those without the budget to purchase something like the S7 Tab +, then the Samsung Galaxy Tab 6 is a good alternative.
It comes with a 2560 x 1600 Display Resolution and weighs only .92lbs, making it yet another super portable choice if you want a more "run and gun" type of tablet.
It comes with the infamous Galaxy S Pen, which ensures you'll have enough pen pressure & sensitivity to draw everything you'd want to.
Huawei Mediapad M5 Lite – Best Samsung Tablet Alternative
The Huawei MediaPad M5 Lite is a fantastic budget friendly samsung alternative, featuring a Curved-edge 2.5D 10.1-inch 1080p (1920 x 1200) display and lasting up to 12 hours in total (a very good battery life!)
This model also comes with Huawei's infamous M-Pen lite, and similar to the S Pen from Samsung, it's a fantastic stylus that offers high sensitivity levels and is sure to serve you well in your digital painting work.
Vankyo MatrixPad P31 – Cheapest Android Graphics Tablet
The Vankyo MatrixPad P31 is from our research, one of the cheapest android graphics tablets on the market today, coming with a 1920×1200 screen resolution, it's a true powerhouse for the size of it.
This 10 Inch Tablet is powered by a 1.6 GHz AMD processor and is capable of lasting up to 15 hours, as specified by the manufacturer
So what drawing apps can it utilise? Everything in the play store (duhh). It works very well with infinite painter and a lot of the android adobe apps meant for digital painting and illustration.
Conclusion
There we have it, some of the best android drawing tablets to get your creative juices flowing!
At the end of the day, it comes down to personal preference when choosing an android tablet, and you need to do your due diligence when researching each one. However that being said, the Samsung Tab S7+ is probably the one we would recommend based on specification & reputation for quality.
FAQ
What is the best drawing app for Android?
There are many different choices, but the drawing apps we would generally recommend for Android would be Infinite Painter, Illustrator Draw & Autodesk Sketchbook, amongst many other choices on the play store.
Whats the best android tablet for artists?
Among all of the tablets we have featured, we would be confident recommending the Samsung Tab S7+ as it features a ton of high quality features that are conducive to high end graphic design work.
For example, if you're working in a design studio / games design studio and need to provide high quality matte paintings or mockups, you want the best features possible for the price, and the samsung galaxy tab S7+ offers the best bang for your buck.
Whats the best android drawing tablet under $1000?
If you go for a cheaper brand then often it is the case that you won't be getting the best bang for you buck, and you'll only be shooting yourself in the foot later on when you have issues.
The Best Laptop for Animation and Graphic Design (2021)
What is the Best Laptop for Animation and Graphic Design? Having a good laptop with a good CPU & GPU & capable of animation and opening large graphic design files is pretty much essential in the creative industry. But finding a laptop for this purpose can be a very...
What is the Best Laptop for Animation and Graphic Design?
Having a good laptop with a good CPU & GPU & capable of animation and opening large graphic design files is pretty much essential in the creative industry.
But finding a laptop for this purpose can be a very tricky affair when you think that there's no one laptop designed specifically for animation. So, you'll have to conduct adequate research to find the precise specifications that you want on your machine.
What is the Best Laptop for Animation?
For animation, you need a laptop that runs on software such as Autodesk, 3D Maya, Blender, and Cinema 4D. These should also be paired with a high-quality graphics card like GeForce GTX 1060 or anything above that.
For drawing, Adobe Illustrator and Adobe Photoshop are the go-to software today, and your device must have a minimum RAM of 8GB, or anything more than that. Finally, aim for a 5th generation processor, Core i5 at the least, and a 256GB hard disk.
What Laptop is Good for 3D Modeling?
If you want to do 3D modelling, you should get a laptop with heavy software like Unity and Maya, plus at least 16GB RAM. Add to this is a high-level graphics card like the NVIDIA 960 and a large SSD to expedite the whole process.
Something like 256GB should be enough, depending on the size of your renders.
What Laptops Do Animators Use?
Most animators feel comfortable with at least a Core i5 Intel processor, 1TB hard disk, 8GB RAM, and a graphics card between 2 and 4GB. Having this level of specs on your laptop makes your animation projects easier to carry out.
Best Laptops for Animation & Design – Reviews
MSI GL65 Leopard

With the MSI GL65 Leopard, you won't have to search too far for the perfect laptop for animation and graphic design. This tried and tested device comes with all the specs to guarantee you a seamless creative performance.
Boasting an optimal hardware configuration, the GL65 Leopard will be a worthy replacement for your desktop.
Whether you're working on 2D animation apps like After Effects and Harmony or using 3D software like AutoCAD, SolidWorks, or Blender, the Intel Core i7 processor in the laptop proves to be a dependable asset.
The high-level processor enables users to set keyframes precisely and procure the ideal form of shaded view they want for the task. Additionally, the GPU offers the perfect balance between a remarkable turbo clock 5GHz frequency and six cores, making it advantageous for you when both single-threaded and multi-threaded tasks are involved.
The MSI comes with an extremely powerful RTX 2070, which can be instrumental during heavy rendering. Not to mention that you get 8GB of VRAM to enjoy the edge as far as texture-intensive rendering is concerned.
To complement the lightning-fast speed of the Core i7 processor, the manufacturer equipped this laptop with a 16GB RAM module, that makes it possible to manage multiple images, meshes, and processes with relative ease. When it comes to storage, you'll have no worries with a 512GB SSD module in place.
The SSD hard drive lets you retrieve the finished scenes and animations in a heartbeat while booting up the Windows 10 OS almost seamlessly. Animators expect excellent display on their devices, and the GL65 doesn't disappoint with its 15.6" IPS panel.
With a 1920 x 1080p screen resolution and a 72% color gamut, you will appreciate the crystal-clear images and amazing color reproduction. You also get an impressive 144Hz screen refresh rate, which is the sweet spot for animators and gamers.
Another useful feature of the laptop is the backlit keyboard that allows you to work on your projects into the night with no hassle. This also features a Hi-Res acoustic setup, a Dragon Center for smooth resource allocation, as well a thermal layout with seven heat-producing pipes.
For connectivity, the laptop features a variety of useful ports, including a USB 3.1, Type-A, Type-C, WIFI 6 standard, and extra perks. On the downside, the MSI is a little bit weighty and will burden you with a 5.07lb load.
Also, the battery used on the laptop is not the best you can get out there. With just 4 hours of runtime on standard use, you might find yourself charging it more often than you'd like. Overall, this will be a wonderful asset for your animation-centric projects if you want to take your gig to the next level!
Acer Predator Helios 300

The Predator Helios 300 from Acer is another solid option that will be a nice fit for your animation and graphic design projects. Sketchers, painters, illustrators, animators, and other digital artists who do video editing and filmmaking will find great use in this amazing device.
Despite being marketed as a gaming laptop, the Predator Helios 300, will be a natural fit for your animation needs. A raft of impressive specifications on its design makes it one of the best laptops for animation and graphic design in its price range.
The Helios 300 is powered by an Intel Core i7-10750H processor that features a base clock of 2.6GHz. However, you can improve the speed to 5GHz with Turbo Boost to make for even greater rendering.
Furthermore, 16GB DDR4 RAM is paired with 512GB SSD storage, to ensure you have maximum speed and optimal multi-layer editing. The large RAM also means that you will experience seamless transitioning and rendering every time you use the Acer Predator.
Additionally, the device lets you play high-end games like Overwatch, Minecraft, Fortnite, etc. whenever you have no tasks to attend to. You also get the chance to pursue courses like Android development, game development, and web design with this remarkable machine.
The 15.6" Full HD display offers crisp and bright views thanks to a high-resolution of 1920 x 1080. Meanwhile, the graphics are enabled by a high-performance 6GB NVIDIA GeForce RTX 2060 is a wonderful option for content creators.
Connectivity is another reliable aspect of the Helios 300, and this is made sure by high-speed Bluetooth and Wireless technology. There are also multiple connection ports, including a USB 3.0 port and a pair of USB 2.0 ports.
You also get an HDMI port and an RGB backlit keyboard to enable you to work comfortably in low-light situations. The manufacturer does not state how long the battery can last but expect something less than what the Ultrabook can offer. Finally, the Acer Predator Helios 300 weighs a weighty 5.07 pounds.
ASUS ROG Zephyrus S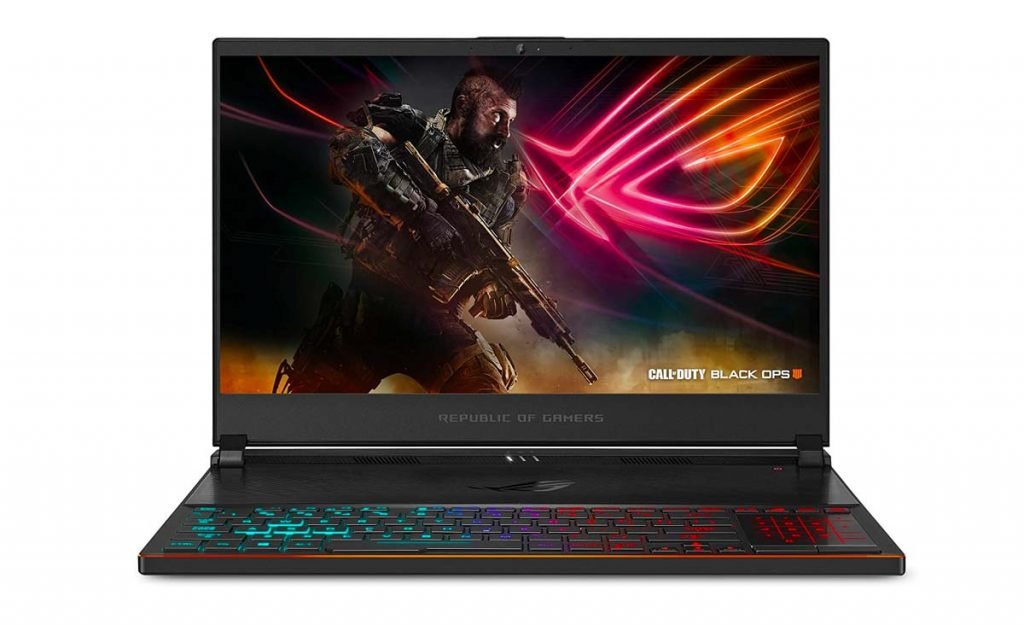 This is another great laptop designed for gamers but will serve just fine for your animation and graphic design projects. It comes in a slim and lightweight package yet delivers a strong performance thanks to a slew of respectable features and specs.
For one, the laptop is powered by a Core i7-850H Intel processor with a Turbo Boost speed that can reach 3,9GHz. The result is a seamless animation process even while dealing with some of the heaviest software out there.
A lot of focus was put on the design of the laptop, hence there are a few underwhelming aspects about the device, including the lowly 16GB of DDR4 RAM. Nevertheless, the 512GB of SSD storage will quickly make you forget about the RAM.
This is more than you'll need to launch software packages faster, as well as enjoy quicker boot-up speeds. While it may not be to the level of other laptops in this review, the combination of RAM and memory here should be sufficient to keep your animation tasks afresh.
Another useful feature of the ASUS ROG Zephyrus S is the wide 15.6" screen with Full HD and a 1920 x 1080p resolution. This is complemented with a 144Hz screen refresh rate for fast changes.
Furthermore, an 8GB NVIDIA GeForce GTX 1070 dedicated graphics card is just what you need for your graphic design work. Overall, the slim and sleek design of the Zephyrus S will endear to you while the reduced weight also makes it suitable for carrying around.
The laptop only weighs 4.6 pounds and features a backlit keyboard with optimized fans that facilitate speed and adaptability. However, the battery life is pretty overwhelming, managing to offer just 2 hours of runtime. Other than that, the AUS ROG Zephyrus S is a nice pick for creatives in graphic design.
Microsoft Surface Book 2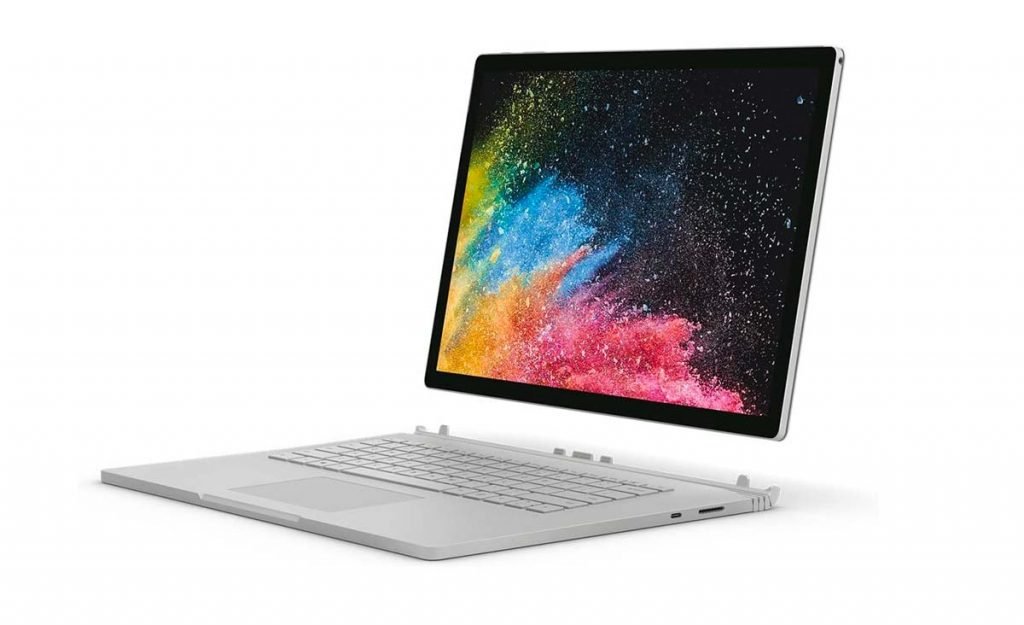 If you are in the market for an all-around device that will suit your animation projects, look no further than the Microsoft Surface Book 2. This amazing offering will provide you with reliable performance with the inclusion of an Intel Core i7-8650U processor boasting a clock speed of up to 1.9GHz on Turbo Boost.
Don't be fooled by the minute frame and weight of the Surface Book 2, this device can handle software in Adobe Creative Cloud Suite with relative ease.
As far as the memory is concerned, the machine is fitted with 16GB of DDR4 RAM, which should be enough for your design work. Backing the memory is 256GB of SSD storage, which is a drop from the other options on our list but gives you the benefit of reduced weight and convenient portability. However, you can go for an alternative version of the Surface Book 2 with additional storage if you don't mind spending extra.
The best feature on this device has to be its display. This is one of the few laptops you'll find with a 4K display that an animator can use. This means you enjoy crisp and sharp images on the 15" screen with a resolution of 3260 x 2160.
Not to mention that the touchscreen support makes your work even more satisfying. For graphics, the machine employs an NVIDIA GeForce GTV 1060 card to go with 6GB of GDDR5 video RAM to ensure things work smoothly at all times.
You will also appreciate the flexible design of the Surface Book 2, which lets you transform it to a tablet or laptop anytime you want to fit your preferences. Furthermore, you have access to Microsoft peripherals for an easy time when working on your animation projects.
Even with all the high-level performance offered, you still get to enjoy up to 10 hours of battery life (when you're streaming). Lastly, the 2.38lb weight of the laptop means you can carry it anywhere and everywhere.
MSI GS65 Stealth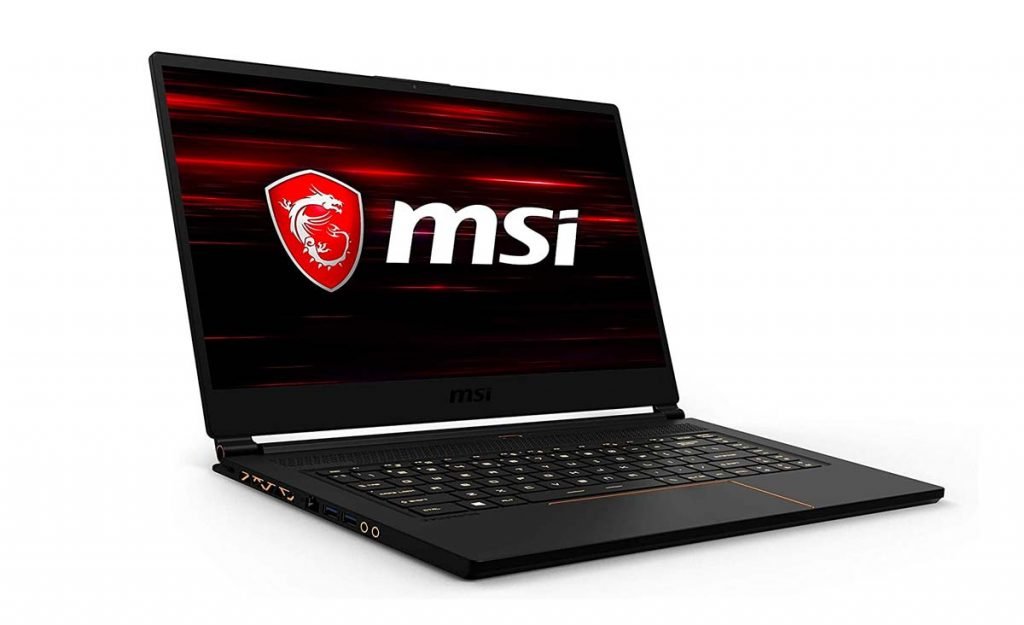 MSI is a renowned brand in the market, with a reputation for rolling out brilliant gaming laptops. The GS65 is no different from the rest, but it comes with the kind of performance to suit any 3D animation projects and CAD-centric tasks that you may have.
A small frame makes for hassle-free portability. Highlighting the specs on the laptop is a high-end Intel Core i7-8750H processor with a decent base clock speed of 3.9GHz.
For storage and memory, you get almost the same specs as most of the devices we've reviewed above. The DDR4 RAM is rated at 16GB for standard multitasking whereas the SSD storage offers 512GB of space.
This makes it easy for creatives who prefer to store their work on their laptops. It also allows you to save the cash you could have used on a portable SSD or HDD. The display is another feature that will make you fall further in love with the MSI GS65 Stealth.
Between a wide 15.6" Full HD screen and 1920 x 1080 screen resolution, you'll have a fulfilling time working on animation projects that require great color sensitivity.
The unit also features a 144Hz screen refresh rate and the quality is reinforced by an NVIDIA GeForce GTX 1060 graphics card with 6GB of VRAM. Overall, the visual quality is pretty excellent with images appearing crisp-clear.
On the connectivity front. The GS65 Stealth offers you plenty of options to go with Thunderbolt 3 support. The keyboard is well laid out on this VR-ready laptop but the battery may be a little bit underwhelming for those with prolonged projects. But you will enjoy carrying this device on the go, thanks to a lightweight 4.14lb design.
Conclusion
When planning to invest in a laptop for your graphic design projects, it is essential to do comprehensive specs research to find something that will suit the tasks you want to perform without any letdowns.
The article above provides you with a reliable guide on how to select the best laptops for animation and graphic design. Whether you are an amateur graphic designer or an experienced animator, any of the reviewed products will be a nice place to get started!
FAQ
Is AMD or Intel Better for Animation?
Generally speaking, AMD Ryzen CPUs slightly edge their Intel counterparts when it comes to animation. Even the AMD is slower in performance by around 5-10% compared to Intel but given the higher number of cores in AMD, they make a more suitable option for animation, as well as multitasking scenarios.
So, if you're looking for a device to create animation with, you might want to prioritize AMD over Intel.
Is Adobe Animate Free?
Once you earn a free Creative Cloud membership, you will be able to download a trial version of the Animate app, plus other applications available on Creative Cloud. But when you upgrade your membership to an All-Apps status, you'll be entitled to downloading the full version of all the applications found in Creative Cloud.
Can I Buy Adobe Animate Permanently?
It is not possible to buy Adobe Animate permanently! This is because Animate CC is actually a rebranded form of Flash Pro, which was launched in Creative Cloud after Adobe did away with perpetual licensing. But if you are referring to the related app that was continued Adobe Edge Animate, then this is a different story.
Is Photoshop Good for Animation?
If you are already well versed in Photoshop and thinking about creating animation, you might be wondering whether your knowledge is helpful. Well, the thing is Photoshop still has some ground to cover when it comes to creating cinematic and high-quality animations of programs like After Effects.
However, it comes with enough capacity to create complex animations, which is something you'd be interested in if you didn't want to deal with the curve of learning about a new application.
What Kind of Laptops are Suitable for Animators?
You don't have to get an extra-ordinary kind of device or any particular specs when you want to animate on a laptop. It is possible to do this on a "normal" laptop as long as they meet the basic requirements of features.
These are the features that will simplify your work and allow you to work faster and efficiently. So, all you want to do is shop around to find a machine with the basic minimum requirements for Animation Software of your choice and you'll be good to go.
Are Gaming Laptops Good for Animation?
Yes! Gaming laptops can double up as remarkable tools for animations.
Most of the manufacturers in the market tend to market their products as gaming laptops since the gaming scene is much bigger compared to the animation scene, hence a bigger target market. The truth is these devices are just as suitable for creating animations as they are for gaming.
References
The Best Budget Laptop for Photoshop (2021 UPDATED)
What's the Best Budget Laptop for Photoshop? If you're a professional graphic designer, it is important to have a laptop that lets you create and organise your projects effectively and efficiently. But sometimes you might not have the budget to spend on the high-end models in the market. In...
What's the Best Budget Laptop for Photoshop?
If you're a professional graphic designer, it is important to have a laptop that lets you create and organise your projects effectively and efficiently.
But sometimes you might not have the budget to spend on the high-end models in the market. In this case, your only hope is to settle for a cheap device that can still offer just the right level of features to get the job done without hassle.
Even when shopping for a budget laptop, you shouldn't compromise on quality! Fortunately, you can find models in the $500-800 range with enough oomph for some reliable photo editing.
But it takes a lot of due diligence to do this, considering the diverse number of cheap laptops flooding the market. So, what are the best budget laptops for photoshop? Let us find out in the following review. If you're interested in this, then also check out our review on the best laptops for animation & graphic design
What is a Good Cheap Laptop for Photoshop?
There are various brands in the market such as Acer, Asus, Lenovo, and Dell that produce low-cost laptops with the capacity to accommodate the heavy workload involved in photoshop.
These ensure you get the kind of editing performance you desire without blowing your budget.
Ideally, the best budget laptop for photoshop should have a core i5 processor at least, a 14" screen size, an 8GH RAM, and a graphics card rated at 2GB VRAM. Furthermore, the device must come with a minimum of 1TB storage to avoid any undesirable issues when storing the edited photos.
What Laptop Should I Buy for Photoshop?
The best budget laptop for photoshop will to a large extent come down to how much you want to spend and personal preferences. If you are doing photo editing at a professional level, then it's only fair that you go for a premium laptop that can withstand rigorous CPU usage.
The machine should also have a screen with high colour-space coverage to allow for a satisfactory photoshopping experience.
If possible, find a laptop with a full HD display that offers 99-100% SRB coverage to get a deserving performance. For a lag-free photo editing session, pay close attention to the RAM and storage space available on the device. An 8GB RAM and 1TB storage space are recommended to get the job done consistently.
What is the Best Screen Type for Photo Editing Laptops?
Most graphic designers are comfortable with a screen size of between 12-15". The resolution is another important screen aspect as it allows you to edit the tiniest details in the images for satisfying results.
You want to go for a full HD screen with 1920 x 1080p resolution and make sure that the display is bright enough.
However, if you want to edit images of extremely high resolution, then you might want to invest n a 4K display laptop. It is advisable to find a matte screen device as opposed to a glossy one. This is because a glossy display shines too brightly in a well-lit room, although their colour reproduction is usually remarkable.
Best Budget Laptops for Photoshop – Reviews
ASUS ZenBook 13 Ultra-Slim Laptop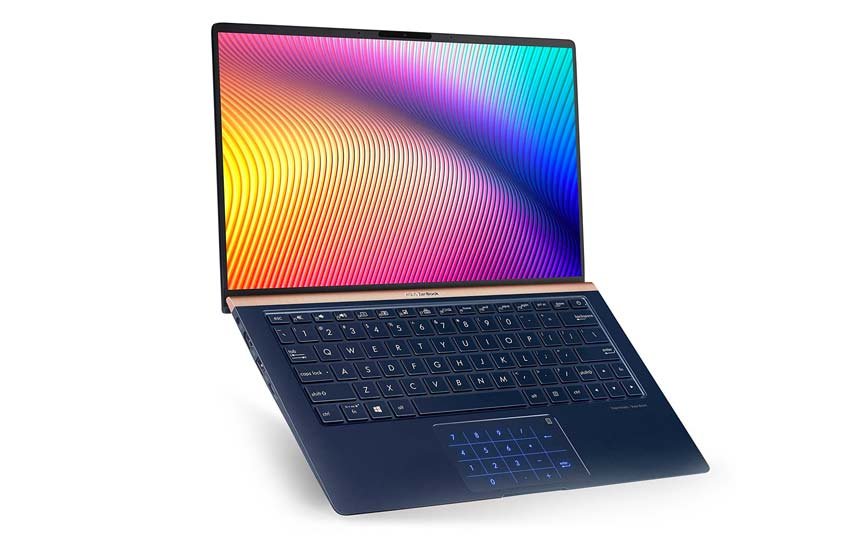 The Zenbook is a pretty small and lightweight device; one glance at it and you will be forgiven for thinking it might not be up to the task. But this couldn't be further from the truth. If anything, it easily outperforms other bigger laptops thanks to a nice combination of features. It is a solid choice for Photoshop that you can buy at a friendly price.
Despite carrying an older 8th generation Intel processor, the 1.6GHz quad cores are just sufficient to run Photoshop at fast speeds.
Furthermore, the 256GB hard disk ensures that you won't be running out of storage space soon. As expected of any good Photoshop laptop, the Zenbook comes with a handful of ports, including a USB-C and a micro-SD reader to help transfer photos from the camera to your laptop.
At 13.3", the display is a little bit modest for photo editing but it offers a full HD 1080p resolution, so you won't struggle to view the images. It also covers 100 percent sRGB color space, making it the perfect tool to edit photos from the web.
You won't quickly find another laptop that can offer this at the price range. While the screen is small, the advantage here is that you only get to deal with a 2.5lb load, which makes the Zenbook extremely portable. The manufacturer claims that the machine can run for 14 hours but real-world tests reveal that it can only manage 4-6 hours on a full charge cycle.
You get a year-long accidental damage policy when you buy the laptop, which entitles you to a replacement in case of liquid spills or when you drop the laptop.
Another thing that makes the ASUS Zenbook perfect for Photoshop is that it comes with a discrete GeForce MX150 graphics card, as well as a touch screen. Although this adds a few extra dollars to the base price, it also means that the device is hard to beat if you're looking for a practical cheap laptop for Photoshop.
If you can overlook the small additional cost of the extra specs, then you have yourself a possible winner for the best budget laptop for Photoshop.
2021 ASUS VivoBook Ultra Thin

Another great option from ASUS, the VivoBook Ultra-Thin will impress with an assortment of specs that can deal with any Photoshop tasks comfortably. Let us start with the Ryzen 5 processor, which you can easily compare to the Intel i5, although comes at a much cheaper price and can run up to 3.7Ghz.
Secondly, the 8GB RAM can be upgraded to 16GB and its large 512GB hard disk means that there is no experiencing lag when you working on the most intensive projects.
The display offers remarkable color reproduction on a 15.6" laptop with a resolution of 1080p. This is not common for the best budget laptops for Photoshop, especially when you consider that you acquire the VivoBook for just over $500. Overall, this small and powerful machine stacks up well against desktops in its price range, so you can imagine the convenience that comes with portability.
On the downside, I must say the VivoBook has a couple of negatives that need mentioning. For one, the trackpad is too sensitive, which can be tricky to work with and you don't get an Ethernet port on the device.
This means it can be hard to see the keyboard using the wrong light. Furthermore, you can't recharge the machine through USB-C. The only silver lining is that these cons don't really count when it comes to photo editing.
You can simply add a drawing tablet to make things easier for you. Ultimately, it will be difficult not to recommend the ASUS VivoBook Ultra-Thin as a reliable Photoshop laptop to those looking to buy on a budget. You only have to look at its list of specs vis-à-vis its price tag and you'll get the idea!
2020 HP 15 15.6″ HD Touchscreen
This is another practical cheap laptop that you can get for your Photoshop projects. The 2020 HP comes with an impressive lineup of specs that should make your projects easier going forward.
Powered by Intel's 10th generation core 15 processor, the device runs at speeds of 1.0GHz but can be upgraded to 3.6GHz with the help of Turbo Boost Technology. The had disk carries plenty of memory space at 512GB and the same can be said for the 16GB RAM.
Thanks to Intel's UHD Graphics, the 202 HP manages to generate excellent images and videos on its high-quality 15.6" full HD touchscreen. The WLED-backlit touchscreen offers a 1366 x 768 resolution and features 10-finger multi-touch support.
Also, there is an SSD boot-up feature that allows you to boot in a matter of seconds, meaning you won't have to wait around for ages just to get your work done.
The laptop also comes with stereo speakers for an improved HD audio experience while its wide HD webcam, video conferencing, and gaming features add to the overall quality and appeal of the device.
You get a slew of USB connections that enable you to connect to mobile devices, as well as Cloud services via WLAN 802_11_AC AND Bluetooth 4.2. The keyboard is conveniently backlit to let you burn the midnight oil with little trouble. Lastly, the 2020 HP supports Windows 10 OS.
Lenovo Flex 14 2-in-1 Convertible Laptop

The Lenovo Flex is a super-thin and ultra-lightweight gadget that takes convenience to the next level. You can carry it anywhere on your back and fits comfortably in a travel bag without burdening you with weight.
It comes with a well-thought-out convertible design that allows it to be turned on both sides, meaning you can use it either as a laptop or a tablet depending on your preference.
The battery can last up to 10 hours, which is more than enough time to work on a Photoshop project without unnecessary interruptions. This also recharges pretty fast; it will only take you one hour to get it to 90%. But if you don't have the patience to wait that long, getting it to 15% is enough to continue with your task for 2 hours.
Another crucial feature of the Lenovo Flex is the TrueBlock Privacy Shutter, which serves to cover your webcam, protecting your delicate information from hackers, spybots, and other security threats online.
Meanwhile, the Lenovo Active digital pen is included in the package to make the deal even sweeter. With the help of AMD Ryzen processing, you'll be able to sketch, draw, and write effortlessly if you have any digital art projects.
The laptop has a flexible design that allows you to set it up on the table in a variety of ways. You can choose to stand it up when looking at videos, position it like a tent, or hold it in your hand like a tablet.
The 14" touchscreen display is wide enough to allow for comfortable viewing while the full HD 1920 X 1080p screen resolution is the sweet spot for Photoshopping projects. You will also appreciate the Radeon Vega-8 feature that makes photo and video editing a walk in the park.
Plenty of connectivity options are provided by the USB 3.1, USB-C, and HDMI ports. If you have to sit a distance away from the router, you'll still be able to connect at lightning-fast speeds and share information on the Cloud via 2×2 AC Wifi.
MSI GF63 9SC-066
This chicly-thin and ultra-light laptop by MSI was created with photographers, gamers, and podcasters in mind. It is powered by Intel's 9th generation core i7 processor to go with a CPU speed of 2.6GHz.
However, this can be boosted to 4.5Ghz if you want faster speeds. This allows the MSI to multitask, making your Photoshop projects easier to carry out.
Thanks to integrated NVIDIA GeForce graphics, the gaming experience on this laptop occurs at a whole new level. This also helps to add to your podcasting, video-conferencing, as well as video-watching sessions.
Meanwhile, the MSI's screen-to-body ratio and the slim-sleek exterior provide you with immersive video viewing. The battery has enough juice to last 7 continuous hours, so no interruptions midway through your working sessions.
Gamers will appreciate the MSI app player, which enables you to play mobile games on your computer with amazing graphics. The keyboard is conveniently backlit to keep your eyes from straining in low-light environments and enable you to work into the night.
A pair of fans and 4 exhausts are included to keep the machine from overheating when you are working on a long project.
As far as memory is concerned, the MSI laptop comes with a 512GB hard disk, which ensures unlimited storage space for your pictures, and this is complemented by a 16GB RAM that can be expanded to 64GB. With the 15.6" LED screen, you'll enjoy amazing views, especially with the HD 1920 x 1080p screen resolution.
Lastly, the 720p HD webcam brings quality to your video conferencing sessions while maximum connectivity is guaranteed by USB 3.2 Type C ports, LAN, WLAN, and Bluetooth support.
Lenovo IdeaPad 3

This is the cheapest laptop in our review! Although the performance is a little lower compared to the other options, it will be a dependable choice for those on their dime.
The Lenovo IdeaPad 3 uses a relatively outdated dual-core processor, but it still manes to run at a decent 2.6GHz. There is also a respectable onboard graphics card but what hurts the performance of the device the most is the reduced RAM.
At only 4GB, this does not compare well with the other laptops on our list. However, you can address this by allowing Photoshop to use the hard disk as a scratch disk.
You also get a wide 15.6" TN display panel with a low resolution that may not be perfect for photoshop but passable. The color reproduction is not also the best, with just 52% of sRGB color space on offer.
With all these underwhelming features, you might be wondering why we still considered the Lenovo among the best budget laptop for Photoshop?
Well, it's because this is the best you can get when you have a very strict budget. The price is very low; just over $350 and its features allow the laptop to handle Photoshopping tasks. So, if your budget is anywhere around its price, then you where to get the best value for your money!
Conclusion
When it comes to editing your photos, whether as an amateur or a professional, through Photoshop, you need a laptop with a powerful processor, impressive graphics, and large RAM to let you multitask and handle your projects with relative ease.
Luckily, you don't have to pay a high price to get this combination of features. Just invest in any of the best budget laptops for Photoshop above and make your life easier!
FAQ
Do You Need a Dedicated Graphics Card for Photoshop?
The latest models of cheap laptops will typically come with a built-in graphics card either in the processor or motherboard. These graphics cards are usually enough to handle photos of primary to middle levels.
However, if you need to photoshop very large images, you might want to find a discrete graphics card that may not necessarily be built inside the processor.
For the dedicated graphics card, this comes with its own memory (VRAM) and processor that processes the graphics as the laptop memory manages other workloads simultaneously. The in-built process graphics cards use your machine's memory (RAM), which subsequently reduces the stated memory capacity. The ideal graphics card memory size should be at least 1GB for quick image post-production.
How Much Storage Space is Enough for a Cheap Photoshop Laptop?
A cheap laptop for photoshop should have a storage space of about 1TB for comfortable performance. A 1TB hard drive should be able to store a large image file comfortably.
But if you don't want to spend extra cash on a new hard drive, you can consider cloud storage. Alternatively, you can get an external drive that allows you to store a large number of images.
For the best performance, 8GB should be sufficient and will probably cover numerous editing projects. Otherwise, if you're contemplating getting the best budget laptop for photoshop, think about upgrading the RAM to 16GB. Note that the majority of modern laptops feature two RAM slots that can store up to 16GB per slot.
How Much RAM Do I Need for Photoshop 2020?
Ideally, you will require at least 8GB of RAM for the program to run normally. Alternatively, you can perform the same tasks with 4GB of RAM but you will likely experience some frame drops and lagging on your laptop. So, try to aim for 8GB of RAM if not more.
Is 32GB RAM overkill?
From the sound of it, 32GB seems like a lot for Photo editing tasks. However, some professionals may have memory-intensive projects that may warrant going for 32GB of RAM. If you're only looking to perform basic Photoshopping, I am sure you'll be just fine with 8GB to 16GB of RAM.
What Processor is Best for Photoshop?
At the moment, the fastest CPU you can get for Photoshop includes the AMD Ryzen 9 5900X, Ryzen 7 5800X, and Ryzen 9 5950X. All these perform within a fraction of each other, and because of this, you can opt for the more reasonably priced Ryzen 7 5800X as the best choice for Photoshop. It will save you a little cash without compromising on the RAM and storage you get.
What Kind of Graphics Card Do I Need for Photo Editing?
It is highly recommended that you use the AMD Radeon Pro WX or Quadro P1000 or anything higher for 10-bit colorwork since the lower end cards only offer 2GB video memory and this is not adequate for working with 10-bit color images. You won't get the level of resolution you're after.
Can You Run Photoshop Without a Graphics Card?
You can run Photoshop without a decent graphics card but doing so means compromising the efficiency of the program and foregoing a lot of its useful functions. Having said that, you could probably get away with using a poor graphics card as you only need to utilize Photoshop on a limited number of basic tasks.
References
https://www.quora.com/Which-laptop-should-I-buy-for-using-Photoshop
Which is The Best iPad for Procreate? (UPDATED REVIEW)
Which iPad is Best for Procreate? From the time Apple revealed that the Apple Pencil will be compatible with some of its cheaper iPads, more digital artists began expressing the desire to own this magnificent combo. iPads are arguably the most advanced tablets you can find in the market,...
Which iPad is Best for Procreate?
From the time Apple revealed that the Apple Pencil will be compatible with some of its cheaper iPads, more digital artists began expressing the desire to own this magnificent combo.
iPads are arguably the most advanced tablets you can find in the market, and when paired with the Apple Pencil and art apps like Procreate, it becomes a dream come true for any digital art enthusiast out there.
The last few years have witnessed many full-time artists migrating from the once-beloved Wacom tablets to iPads, which is a testament to the level of quality you get from the iPad.
So, if you're an artist that uses Procreate, you might be wondering which iPad is best suited for your drawing work. In the following guide, we will lay out some practical options available to you in so far as what iPad is best for Procreate.
What Should you Look for in a Tablet to use Procreate?
If your knowledge about iPads is limited, there are a few things that should interest you when searching for the appropriate device. For instance, you want to look for an iPad with a large screen for clear views of the images and a RAM that is big enough to handle the tasks you'll be working on.
The same should apply to the hard drive to provide needed storage and try to ensure that the unit is compatible with the Apple Pencil.
What iPad Features Should You Consider for Use with Procreate?
There are a couple of features that increase the practicality of an iPad for Procreate, which you should be interested in when shopping for an iPad.
One of the first things to look at is the processor. The "Chip", as popularly referred to by Apple generally influences how fast the device responds to commands. Ideally, you want to find an iPad with the latest processors to avoid the frustration of delays and lag when you type, tap, or launch applications.
The RAM is the other spec to look at. Concerning Procreate, a greater RAM will enable you to utilize more layers for a given canvas. Additionally, a larger capacity is crucial as it lets you install extra applications within Procreate, to be in a position to make and save more artwork on the iPad.
Finally, the display should be wide enough for clear views and come with superior features like high resolution and a larger color spectrum.
Now let's get onto our list!
Best iPads for Procreate
Apple iPad Air 10.5"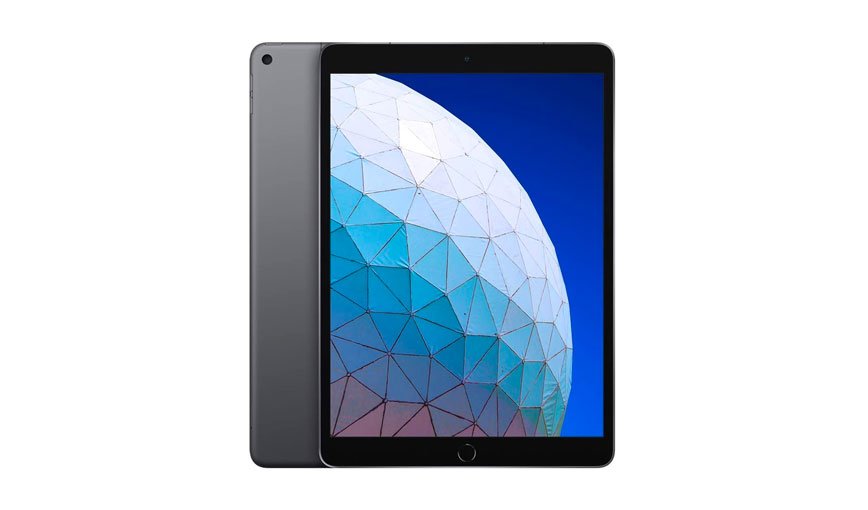 Produced after the iPad Air 2018, the 2019 version is an all-rounder that will serve you diligently when drawing in Procreate. It comes with a bigger display at 10.5" which should make for clear viewing and ample space to create your art.
The use of a six-core A12 Bionic processor helps to improve the performance of the iPad Air, making it more power-efficient and responsive to commands while also resulting in additional processing power.
But the best feature on this graphics tablet has to be the integrated smart connector, which lets you connect to the essential bear accessory. Graphic designers will enjoy working on the 10.5-inch screen and the compact size of the iPad Air makes it a nice option to use on the go.
At only one pound, you can carry it practically anywhere you go to ensure continuity of your projects. However, it doesn't come cheap and might be a little bit of a stretch for those on a tight budget.
Drawing on the iPad Air feels more like drawing on a real canvas as opposed to doing it on a digital one. This is because the tablet supports the 1st generation Apple Pencil, which you have to connect to the tablets Lightning port or Lightning adapter to charge it.
This feels quite natural in your fingers with smooth strokes on the canvas for a seamless creative process.
The stylus also features a laminated True Tone display, which combines with your iPad's LCD layer and tough layer to decrease the gap between the two.
This implies that during drawing, what you sketch appears directly beneath the tip of the pen without leaving a gap in-between. The colour reproduction is also impressive, featuring vibrant colours that bring your work to life. Another thing you'd like about the True Tone display is that it will adjust the display depending on the light balance.
But if you find it troubling, you can always turn off the feature from the control centre. Despite all the amazing specs on the iPad Air, it still comes with a couple of underwhelming features.
For instance, the device still employs the same design used on the iPad Air from 2013. Also, the 10.5" sounds ideal for use in Procreate but the actual canvas space provided is too small for some artists. Other than that, this is a reliable drawing tablet for any creative looking to make the most of Procreate!
iPad (Latest Model, 8th Generation)

This 8th generation iPad hasn't exactly received a fair shake in the history of iPads. Most people look at its relatively affordable price and assume that it's not up to quality without even giving it a try.
It will also be a fitting option for beginners and casual digital artists who want a reliable experience for the cheapest price possible.
The entry-level iPad comes with all the fundamental features for the start you need.
Apple did a commendable job of selecting just the right features needed to keep the price reasonable for the budget buyer.
One thing you'll appreciate about the tablet is the recent A12 Bionic processor used to power it. This can comfortably handle everyday tasks, as well as the larger project files in Procreate.
The iPad also supports the 1st generation Apple Pencil, which offers unparalleled drawing and painting performance in this price range. The 10.2" retina display is a nice addition while the battery can last up to 10 hours on a full charge cycle.
The only thing you may not like about the iPad is the design, more so the bezels at the bottom and top of the screen. Otherwise, this is a practical choice for a beginner considering the friendly price.
With its high-resolution display and long battery, the capabilities of the 8th generation iPad cannot be understated.
iPad Mini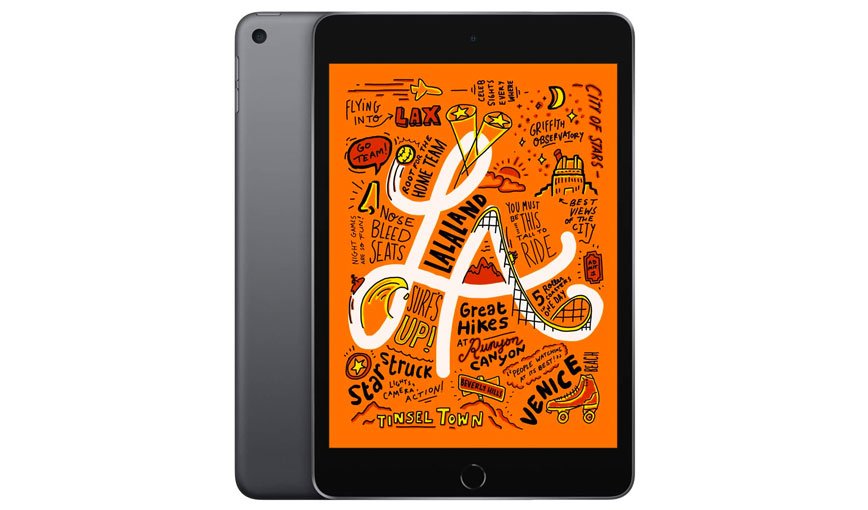 If you want to enjoy the benefits of an iPad in a compact and portable package that you can take anywhere, then you'll find just what you're looking for in the iPad Mini.
This exciting device comes with a 7.9" screen and weighs a paltry 0.66lbs. It is so small that it will disappear in your daypack without adding weight to the load. Essentially, it is the best tablet for creatives who are always on the move.
Despite its miniature frame, the iPad Mini features impressive specs, such as the A12 Bionic processor, which you'll also find on the larger iPad Air.
This gives the tablet enough capacity to cope with intensive projects on Procreate. If you don't want to use the Mini as your main tablet, then it will come in handy as a secondary device to offer the convenience of portability.
The tablet is also compatible with the first-generation Apple Pencil, although you'll have to buy this separately. One crucial benefit that the Mini has over all the other iterations of the iPad, including the most expensive of them all, the iPad Pro, is the very sharp and clear high-resolution display.
With a resolution of 2048 x 1536 to go with 326 pixels per inch of pixel density, the Mini offers impressive views for a comfortable drawing experience.
Compared to the 364-pixel density you find on costlier iPads like the Air and Pro, this means you get to enjoy crisp clear images and extra-sharp videos on the display.
New iPad Air 10.9-inch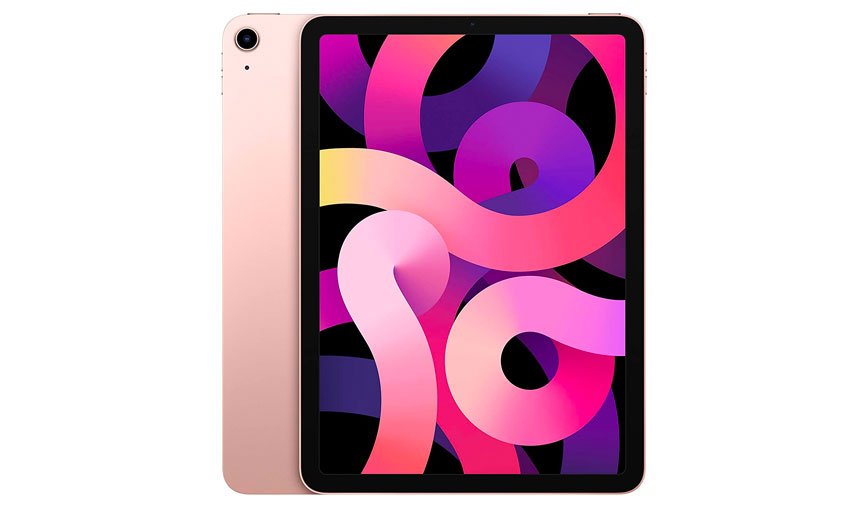 If you're a digital artist with a flexible budget, you can either choose to buy an entry-level iPad or go for the top-of-the-range graphics tablets.
Unfortunately, the cheaper-priced iPad may not offer you all the advanced drawing features you're looking for, which can be limiting if you want to produce professional-level work. On the other hand, premium models like the Pro can be too expensive and do a number on your bank account.
Luckily, you can settle for something in the midpoint that offers a great balance between the drawing features and the price you pay. This is exactly what the iPad Mini will provide you with.
This mid-range tablet will impress you right from the design. It features the same contemporary all-screen design with limited bezels around the screen just like the iPad Pro. The 10.9" screen is ideal for drawing and the 64GB storage 12MP camera adds to the quality of the tablet.
It is also compatible with the Apple Pencil 2, which is probably the most advanced digital pen in the market. Other than the iPad Pro, this is the only other option that supports this stylus, so you know you're getting the best tool to create masterpieces on Procreate.
Powering the device is the A14 Bionic processor, which is the latest processor on Apple devices.
This allows you to effortlessly glide through all the intensive projects waiting for you while enjoying high efficiency and reliable response to commands. But the best attribute of the iPad Air has to be its price. Despite all the progressive features you find on the Air, the price tag is notably lower compared to the iPad Pro, ensuring that you get the best value for your money.
iPad Pro
The iPad Pro is what established Apple's iPads as the go-to devices for digital art. When you combine the Pro with Procreate, you get arguably the most satisfying drawing experience, as no other tablet comes close to it. There are various for this, and one of them is the high-quality Apple Pencil it supports.
The Apple Pencil, which the iPad Pro is compatible with, is the most advanced digital pen out there. It offers well-balanced pressure when drawing and tilt sensitivity, allowing to enjoy and natural feel.
Aside from the stylus, the display is another feature that plays a key role in the digital stylus experience. You get a 120Hz ProMotion display on the Pro, which offers double the speed of the average tablet display.
This results in an extremely fast response from the stylus and screen, helping the Apple Pencil to achieve a latency of only 9ms. When you draw with the Apple Pencil 2 on the iPad Pro's screen, you won't have to deal with lag behind the pen tip. In essence, the experience is as natural as drawing with a real pencil on a real canvas.
When the 9ms latency came into being, not many apps could make the most of the feature. However, some of them gradually started to support it, including Procreate, which makes the iPad Pro the perfect tablet for Procreate.
The processor is the heart of the tablet, and the iPad Pro does not disappoint when it comes to this. This is because it is equipped with an A12Z Bionic processor, which is strong as some of the processors you find on laptops.
In short, the power and performance you get from the iPad Pro are incomparable to other tablets on the market. The processor makes for a lag-free drawing experience when working on high-resolution tasks with multiple layers.
This raw power comes in handy for professional digital artists looking to create masterpieces. Furthermore, the smart on-the-fly optimisations enabled by the tablet tailor it for high-resolution files.
You can buy the iPad Pro in two screen sizes; 12.9 inches and 11 inches. Both are just the right size for digital drawing with ample canvas space to work with. For those who want something portable, the 11-inch screen will be the better option while the 12.9 inches is best suited for those who want to maximise the drawing area.
Conclusion
After it's all said and done, the best tool for Procreate is the one that's most accessible to you. It is wise to begin your Procreate journey with what you have now then you can think about upgrading with the time.
However, if you have a flexible budget the allows you the freedom of choice, then be sure to consider the different features on the iPad before you decide to make a purchase.
So, if you want to take your digital art gig to a whole new level, any of the above products from Apple will be a nice option for those wondering which iPad is best for Procreate.
FAQ
Which iPad is Best for Drawing in 2021?
At this point, the iPad Pro remains the most creative and sought-after iPad by digital artists and illustrators. It is a high-quality tool that you can draw and paint on with relative ease and incredible performance.
It is even better than the Wacom MobileStudio Pro and Microsoft Surface Pro, and this is thanks to a spectacular combination of specs.
Is Procreate Free on iPad?
The Procreate drawing app can be accessed for free on the Apple Store. You don't have to worry to spend extra after getting an iPad when you want to draw on Procreate.
Simply go to the Apple Store on your iPad and download Procreate Pocket free of charge to benefit from the unlimited sketching, painting, and drawing tools for your digital art projects.
Do I Need an Apple Pencil for Procreate?
Yes! Procreate is practical even without an Apple Pencil. The brand of stylus doesn't matter much, as long as you get a high-quality pen that's compatible with the program and you'll be good to go.
One reason an artist may be reluctant to invest in an Apple Pencil is that they are quite expensive, so people tend to opt for cheaper alternatives on the market.
Is Procreate Worth it in 2021?
Procreate continues to remain a valuable app for digital artists, even though it can get pretty frustrating once you get to the more advanced features and techniques.
Overall, it is a fulfilling program, especially when you get the gist of everything that it can do. It will play a crucial role in exposing your art skills to a whole different world of possibilities.
How Much RAM Does Procreate Use?
Generally speaking, the larger the canvas size and higher the resolution on a tablet, the more RAM Procreate will need to keep up. The same is true if you are talking about more layers that you add on top.
Luckily, most of the beginner-level iPads on the market come with at least 3GB of RAM, which is better than the older models with 2GB of RAM.
The entry-level iPads will work pretty fine on any iPad with less than 4K screen resolution but if you're working with anything higher than that, you will be better off getting an iPad Air with 4GB RAM or more.
Is Procreate Worth Getting an iPad for?
Many people used to working from a desktop to draw on Adobe software tend to wonder whether it's worth investing in an iPad. This is a genuine concern if you're worried that the iPad you buy may not be compatible with Procreate.
The thing is, Procreate has been available on the Apple Store for quite a long time and has become a recognized app in the digital art scene.
What some people don't know is that the program is focused on the iPad experience and offers artists a range of tools and features to make for a seamless working experience. For those used to desktop software, you will benefit from all these tools and take your gig to the next level. If you're looking for a portable drawing setup, investing in an iPad and pairing it with Procreate is the way to go!
Why is Procreate Such a Great Program?
Procreate is a very powerful digital art program that offers all the tools and options an artist would ever require. Any experienced creative can start making impressive art the first time he or she gets their hands on the program. Essentially, it provides you with a canvas (of various sizes), pens, brushes, shapes, colors, etc. which means you'll be in familiar creative territory. Everything becomes so easy when you can pair Procreate with the Apple Pencil on an iPad.
Although Procreate is a complex and detailed program that requires you to spend a good amount of time learning its ins and outs, the good thing is that the sooner you begin to get the gist of it, the sooner you'll begin to improve your digital art projects. Generally, artists of any skill level can start creating beautiful art with this tool. Some of the essential features you can enjoy on the latest version of Procreate include:
At least 150 paint brushes
Drawing guides
Amazing color control and selection
Limited filters, effects, and gradients
Aids and cheats
Intuitive Interface
Animation
Layers
Looking at all these features, Procreate may seem like a complicated and intimidating program to use. But that couldn't be further from the truth. On the contrary, Procreate is pretty easy to use once you have the interest. It provides artists with a simple way to draw and paint artwork even for those who have little knowledge of the workings of a computer.
What's The Best Airbrush for Beginners? (GUIDE)
The Best Airbrush for Beginners Innovation across different industries helps to make work easier; in art, it allows artists to create masterpieces. One of the most innovative tools in contemporary art is the airbrush alongside other things like display tablets. Many creatives are giving up their paintbrush for an...
The Best Airbrush for Beginners
Innovation across different industries helps to make work easier; in art, it allows artists to create masterpieces. One of the most innovative tools in contemporary art is the airbrush alongside other things like display tablets. Many creatives are giving up their paintbrush for an airbrush to paint their creations.
While airbrush technology has been around since the late 1800s, it is only until recently that it's getting embraced by a diverse number of artists.
But airbrushes can be tricky to use, especially if you have no prior experience with them. It gets even trickier for a beginner looking to purchase their first airbrush. Keep in mind that there are various brands of airbrushes in the market, with some being more suitable for professionals than for amateurs.
So, to ensure you get a soft landing in the field of airbrushing, we have scoured the internet to bring you the best airbrushes for beginner artists.
What is an Airbrush Kit?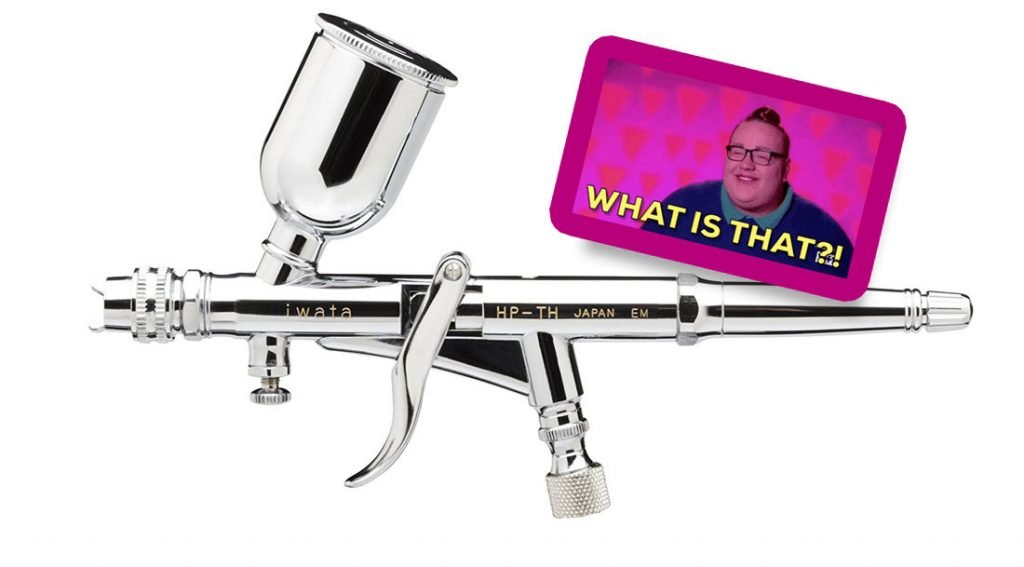 An airbrush is an innovative tool that artists use to paint. It is a small air-worked device that sprays out different media such as paint, ink, color, etc. on to a piece of art with the help of a process known as nebulization. Painting with airbrush tools usually ends up in very refined and exquisite works of art.
What can you use an Airbrush for?
An airbrush has got numerous applications. It can be used in a range of artistic processes, including arts, illustrations, mural painting, photo retouching, as well as a hobby tool. It may also be used to apply make-up, do fingernail art, paint cars and items of clothing, and to make temporary tattoos.
What are the Different Types of Airbrush Kits?
Single-action Airbrush Kits
A single-action airbrush kit works on the principle of a spray gun. It involves a simple process where you just press a button and the spray comes out. There is a knob on the kit which you use to control the amount of paint coming out.
This type of airbrush kit is more suitable for beginners given its relatively user-friendly operation. The paint mixes with air after coming out of the needle, hence this process is known as external mixing whereas the airbrush is known as external mixing airbrush.
On the downside, single-action airbrush kits don't offer precision work and may not be the ideal option when you want extensive details in your painting. They deliver extensive coverage and tend to be difficult to draw straight lines of uniform thickness using the needle of a single-action airbrush kit.
This is what makes it the appropriate choice for amateurs; the kit is easy to control compared to a dual-action airbrush kit. If you want a cheap airbrush kit that will get you started in this field, the right option will be to go for a single-action kit.
Dual-action Airbrush Kit
A double-action airbrush kit is a tool that gives you full control of the process. These give you the freedom to control the flow of paint, as well as the pressure of the airflow.
Pulling the trigger of a dual-action airbrush tool sprays out a large amount of paint, making it a nice option when you're after greater coverage as opposed to finer details during painting. Siphon feed and side feed airbrushes are typically used as double-action airbrushes, and allow you to change colors during the process.
Additionally, gravity feed paint cups are used in dual-action airbrush kits. The paint cup is usually located on the top side in this type of kit whereas this goes below the airbrush in the siphon-feed airbrushes.
The paint in dual-action kits mixes with the air behind the nozzle, that's why the process is referred to as internal mixing while the airbrush is called an internal mix airbrush. Overall, this type of kit offers sharpness and finesse in the work done. The final results come out with precision and accuracy, making it a great choice for professionals.
How does an Airbrush Kit Work?
If you're used to airbrushing digitally in photoshop for example with a drawing tablet, then you'll get on fine with traditional airbrushing, although there is a learning curve involved.
Typically, the airbrush draws paint from the bottom or top, depending on the location of the paint; whether under or over the product. The cup is conically shaped and holds the paint, which eventually comes out of the nozzle. The air pressure outside is usually lower than the one inside, which leads to the paint being pushed out by the air inside as it tries to escape to the outside. There is a needle passing through the tip of the nozzle, which regulates the flow of paint.
Pushing on the needle, either forward or backward, results in a smaller or bigger hole in the nozzle, helping to control the amount of paint being pushed out. In dual-action airbrush kits, the button is pushed downward to start the airflow, and pulling back opens the nozzle.
In essence, more paint flows out when you pull back the trigger. Meanwhile, on a single-action airbrush kit, the same lever releases both the air pressure and paint simultaneously.
What are the Benefits of Using an Airbrush?
There are a couple of advantages of using an airbrush, which goes a long way to influence the final quality of your work. The following are just some of the benefits you get:
Saves Time – Airbrushing offers you more control of the process compared to manual paint brushing. This allows you to move much faster and save time for other activities
Consistency – The paint is applied over a given surface smoothly and this helps to maintain consistency
Professional appeal – Using an airbrush does not leave behind the visible strokes you see when using some paintbrushes. Instead, the final job appears smoothy with a glossy finish to not only enhance the neatness of your work but also make it more professional
Perfect skin – Using an airbrush to apply makeup conceals any flaws or blemishes on the skin, allowing models to look almost perfect in front of the camera
What is the best airbrush kit for beginners?
Master Airbrush System

This is probably the best airbrush kit for beginners you can find out there. It provides you with plenty of options to experiment with your paint flow size.
The Master Airbrush kit features a multipurpose design that comes with 3 user-friendly airbrushes. A manual is included in the package to allow beginner airbrushing artists to explore the maximum potential of this airbrush kit.
This versatile gravity feed airbrush ensures that you can work on any medium, from decorating a cake and spraying automobile graphics to doing nail art.
In all cases, the results are pretty impressive. The air compressor on this kit is equipped with an air filter water trap, as well as an airbrush holder. Add this to a pressure regulator that enables you to get just the right air pressure for the expected results.
Two airbrush holders are included to enhance flexibility for when you want to play around with different sizes of needles. You can begin working with a single-action before going to a dual-action airbrush with no fuss. The airbrush also features water-based acrylic paints of 6 different colors in 1oz bottles. This saves you the trouble of having to choose and buy colours separately while a reducer on the kit lets you get the perfect paint consistency.
A double-sided colour-mixing wheel makes it easy for you to get the different colour shades and gradient you're after. Cleaning the airbrush won't be a problem. The kit is delivered with a cleaning brush set that enables you to carry out the proper maintenance on your airbrush kit.
Gocheer Professional Airbrush Kit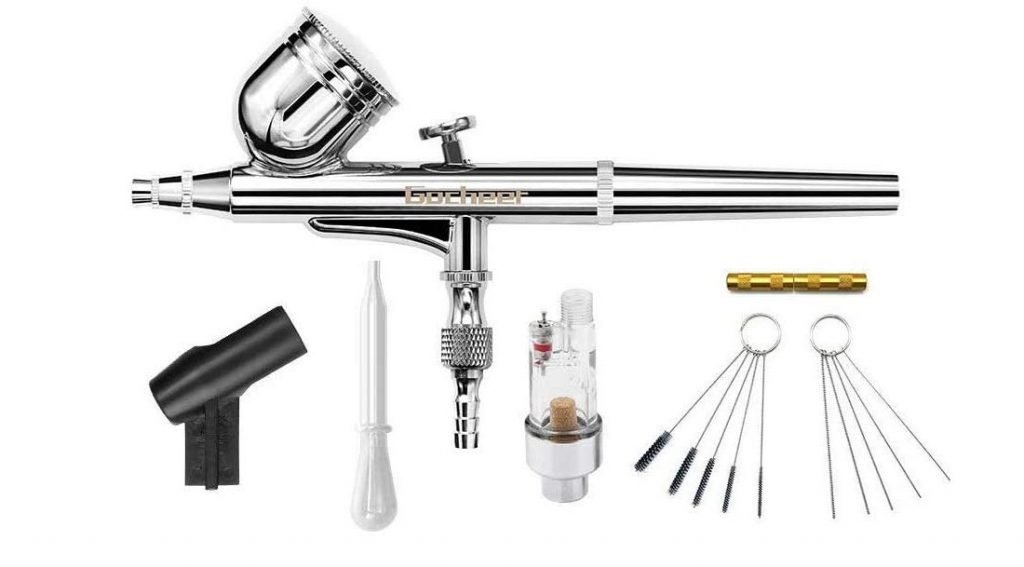 This airbrush kit promises to "cheer you" through your creative process. It comes with everything to let you deliver a masterpiece in whatever project you choose to take up. You can use it for art painting, nail art, cake decoration, handicrafts, and any other thing that comes to mind. The Gocheer is a multifunctional and portable airbrush kit that you can easily throw inside your backpack.
It offers the freedom to move around, making it the perfect choice for models on an outdoor photo shoot. A USB port is integrated into the airbrush kit, allowing you to recharge it with a USB cable so that it doesn't run out of battery.
It can last for between 30 and 50 minutes on a full charge cycle. The Gocheer is a single-action kit that features a mini air compressor, as well as a mini-screwdriver.
You also get a protective pump that allows you to start using the kit without needing an air hose. Another thing you'll like about this kit is that produces very little noise, giving you peace of mind so that all the focus is on your work.
Thanks to a rigorous process of prototype creation, this kit offers an upgraded air pump, which optimizes the line while also extending its operating time.
The kit is also ergonomically designed to offer the user maximum comfort, which allows beginners to be at ease while working with it. The manufacturer had amateurs in mind when designing airbrush, and this is what makes it one of the best airbrush kits for beginners. Using it simply involves preparing the paint, switching the button, and you'll be good to go.
Hubest Airbrush Kit

The Hubest is a double-action airbrush kit with three different sizes of spray guns to come in handy during your various arts and crafts projects. It is a nice choice for base coating and tasks that require wide coverage. It can also be used by both beginners and experienced airbrush painters. The multipurpose design of the kit enables you to use it on jobs like photo retouching. Motorcycle graphics, cake decorations, tattoos, signs, and backgrounds, etc.
The kit is conveniently lightweight to give you an easy time whenever you want to move around with it.
Depending on how you use the trigger controls, you can achieve different line widths, opacity of the paint, as well as the range of value without stopping. This allows you the freedom to come up with whatever you have in mind without stopping the process.
You also get a micro air control valve on the airbrush that serves to let you regulate the airflow at the tip of the airbrush. This ensures you make the most of the paint output control to get the best possible outcome. Remember to polish the needle prior to using the airbrush if you want a nice spray. Overall, Hubest is a great choice for artists looking for finesse in their work.
The gravity color cup mounted at the top requires less air pressure to draw the paint, meaning you can use slow hand movements to come up with fine spray details. This is also easy to take apart, which comes in handy when you want to replace the color cup or clean it for maintenance. It is recommended that you clean it after use to enjoy prolonged usage from it.
Paasche H-Set Airbrush Kit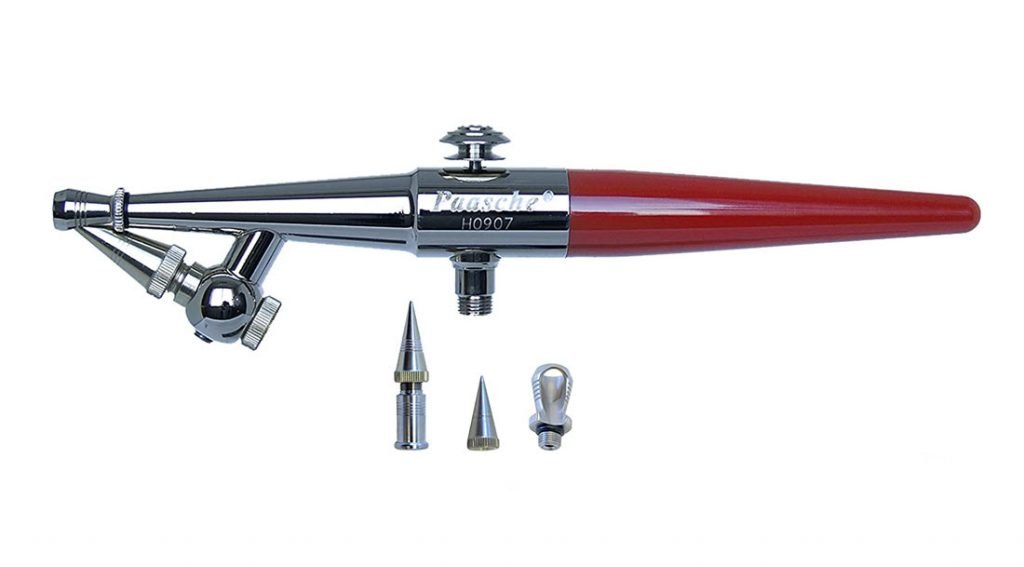 If you are searching for an airbrush that will let you paint over a wide area, the Paasche H-set may just be what you need to achieve the best results. This single-action siphoned feed kit makes quick painting easy, even for amateurs.
It comes with three head sizes to enable you to draw different pattern sizes. This means you can paint both thin and thick lines with relative ease.
The three spray heads mean that you can use the kit for different kinds of projects, including solid coatings, stencil work, and even lines. Some users even claim that you can use it for woodwork projects and painting over aluminium. Alternatively, the H-set will offer great service when it comes to tattooing, cake decorations, tanning, chip repairing, crafts, and general hobbyist use.
Overall, it is a user-friendly device that doesn't involve a learning curve for rookie painters. The single-action mechanism is just perfect for the inexperienced. It is also durably designed, allowing you to use it regularly and rigorously without compromising its longevity.
This is a credit to the chrome-plated body, which holds up well over time.
Cleaning the airbrush is a straightforward process just shouldn't take much of your time. You only need to spray the paint cleaner on the airbrush and it will be good as new. The package comes with two differently sized spray heads, a metal cup, storage bottle, braided hose, hanger, wrench, as well as a bottle assembly. Furthermore, you get a manual to guide you through your maiden airbrush painting project!
Conclusion
If you're looking to make the switch from a paintbrush to an airbrush, you must get the appropriate kit for a start. This will help you to handle the transition more seamlessly and shake off those beginner blunders faster.
The above models are some of the best airbrush kits for beginners you can find on the market. They will be a great starting when you decide to go shopping!
FAQ
Which is the Right Airbrush for me?
If you have no experience with airbrush kits, then the single-action airbrush design will be a more suitable choice for you. It releases both the paint and air when you engage the trigger.
But if you're looking for more control in your work and finer details in your projects, then you should go for a double-action airbrush. This type of kit releases air when you push the trigger but comes with a separate knob that allows you to control the release of paint.
Best beginner airbrush kit for miniatures?
Most Airbrush Kits that we listed above should be good for painting miniatures. However, do check with the manufacturer if the airbrush is specifically for a certain task.
How Important is Trigger Control?
Trigger control is a crucial feature of any airbrush kit, especially for a beginner. This is because it regulates how far the nozzle will go once you pull the trigger. The purpose here is to restrict the amount of paint that's getting atomised.
What Type of Paint Can I Use?
You can use any liquid in your airbrush so long as it's been thinned to maintain the required consistency. This is because the right consistency allows the paint to flow through the kit without interruption.
Overall, you can select from paints such as acrylics, water-based colors, oils, enamels, automotive finishes, food colors, etc.
How Should I Clean My Airbrush?
In most cases, airbrush kits are packaged with a cleaning kit while the user guide provides you with details on the appropriate way to clean it. In case there is no manual to explain this, you can use a relevant solvent to clean the wetted parts of the airbrush. Also, the cups and bottles have to be rinsed during cleaning. Spray the solvent on the airbrush a couple of times so that it is thoroughly cleaned.
When you finish cleaning the airbrush, be sure to lubricate the nozzle and the air valve with the appropriate lubricant. This should prevent them from getting stuck during operation and be careful when working the needle so that it doesn't bend easily.
What is the Right Price for an Airbrush Kit?
For beginners, buying the first airbrush kit can be a tricky affair because you are never sure whether the product will be worth the money. Furthermore, it is confusing since you are yet to establish a style or develop preferences for your type of painting.
So, if you're buying your first airbrush, it is okay to go for the budget-friendly models on the market to get a feel of the art but make sure that they don't completely compromise on quality.
References
https://www.quora.com/Is-it-hard-to-airbrush
The Best Cheap Drawing Tablet with Screen
What's the Best Cheap drawing tablet with screen? Drawing tablets help to take your creativity and graphic design skills to the next level. Gone are the days when you needed a pencil and paper to showcase your artistic skills. Thanks to these innovative devices, the process is much easier...
What's the Best Cheap drawing tablet with screen?
Drawing tablets help to take your creativity and graphic design skills to the next level. Gone are the days when you needed a pencil and paper to showcase your artistic skills. Thanks to these innovative devices, the process is much easier and less messy, allowing you to draw directly on the screen using a digital pen. No need to struggle with an eraser; you can edit your drawings with the help of various digital tools.
The past few years have witnessed a surge in cheap but impressive display tablets by a range of brands. Whether you are a graphic designer, digital artist, illustrator, or animator, this is the best time to get a drawing tablet for your work.
The best part is that you don't have to break the bank to grab yourself a bargain, let's begin with the buyer's guide:
What is the Right Size for a Graphics Tablet?

Drawing tablets come in a variety of sizes. Some can be as small as 10" while others as large as 20", making it tricky for the uninitiated to select the perfect size for use. Generally, if you want a device that you can comfortably carry around and bring along on your constant travels, then you should opt for smaller. Ideally between the 10"-15" range.
Aside from being portable, this size is compact enough to easily fit inside a daypack and conveniently lightweight not to weigh you down. On the other hand, larger tablets are better suited for individuals who don't move around a lot.
A 16"-20" tablet can take your creative experience to another level and make digital painting and sketching more immersive.
It ensures that you see your work more clearly and enhances your ability to pick out any errors and oversights for corrections. This means you won't have to keep on using the zoom feature whenever you're editing your work.
How Do I Select the Appropriate Drawing Surface for a Tablet?
The size of the tablet also affects the drawing area available. This refers to the active area on the tablet's screen where you can draw. Normally, the active drawing area is designed with multiple sensors to detect your strokes then relay the image on to the screen.
When choosing the drawing area size, you should be careful not to prioritise its expansiveness over the quality. While a large drawing area might be more appealing, it doesn't always guarantee you superior quality.
As such, you want to consider other tablet features (more on this below) that affect the quality of your drawing.
What is the Role of Shortcut Keys in a Graphics Tablet?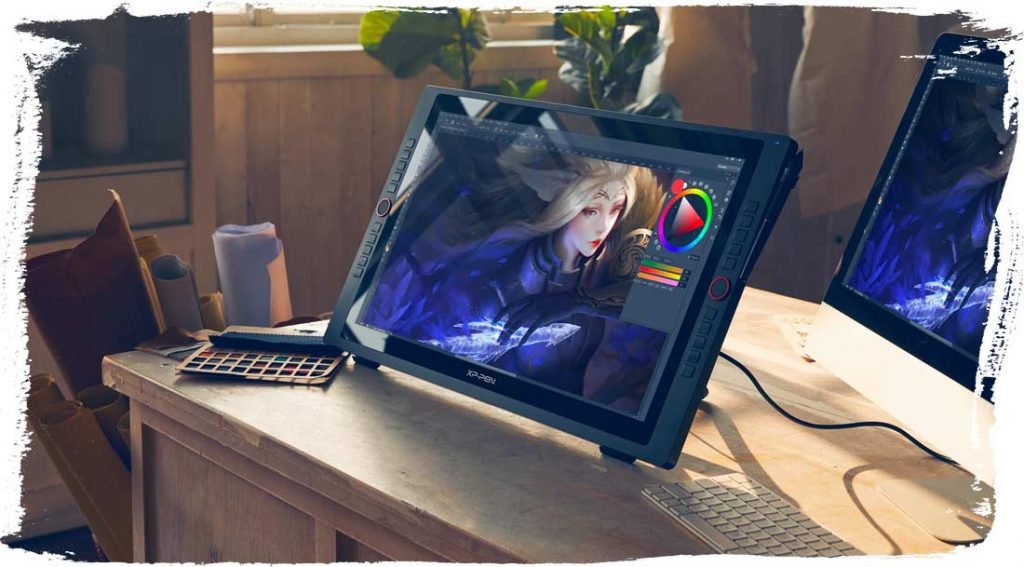 Shortcut keys, also referred to as hotkeys, essentially give you access to shortcuts to make your work more efficient. It significantly cuts the time needed to access your most frequently used tools while drawing. Nowadays, these shortcut keys are integrated into the drawing tablets while in the past, you could only access them via the PC you're using or Mac.
To get the most out of your hotkeys, they should be customisable. This way, you enjoy the freedom to assign your preferred shortcuts for a more comfortable creative process.
Nevertheless, some tablets will automatically assign shortcuts based on how frequently you use some tools when drawing.
Overall, the benefit you get from customisable shortcuts is the freedom to add or delete hotkeys if and when needed. After all, not all the projects you take on will call for the same kind of shortcuts.
What Type of Connectivity is Appropriate for a Display Tablet?
Some drawing tablets must be connected to a PC or monitor to work. Typically, there are several ways you can do this, with the common ones being via USB and wirelessly using Bluetooth. A USB connection requires you to have a USB cable that links the tablet to the PC. The disadvantage of wired connections is that it restricts your movements.
You need to be physically close to the computer, so you are basically confined to one space; which can sometimes take a toll on some people. On the bright side, this type of connection rarely fails, allowing you to enjoy drawing with no technical interruptions.
The other connection method available to you is via Bluetooth. This comes in handy to eliminate the need for cables, leaving you with more freedom to move around and flexibility during your work. You get to move from one room to the other and change the setting, which for some artists can help to inspire creativity.
However, you can only move as far as the Bluetooth range allows before you lose the signal!
What are the best Pressure Sensitivity Levels for a Graphics Tablet?
The pressure sensitivity of a tablet is what determines the thickness of the strokes when drawing lines using a digital pen. This affects how much pressure you should exert on the drawing area to achieve the right thickness for your art. Normally, pressure sensitivity is rated between 512 and 8192 levels.
The higher the pressure sensitivity value, the more subtle the strokes when drawing. Drawing tablets come with various pressure levels, allowing you the opportunity to determine the contrast of strokes that best suit your projects. In most cases, artists find a pressure level of at least 2048 to be sufficient.
Best Cheap Drawing Tablets with Screens – Reviews
Huion Kamvas Pro 12

The Huion Kamvas Pro 12 is a fantastic alternative to the wacom cintiq. This device will only cost you around $200 but comes with a range of useful features to let you tap into your creative side.
Some of the distinct features on offer include an anti-glare glass layer that protects it from damage. Durability tests have shown that the Kamvas Pro 12 can handle rigorous impact and use without deteriorating in performance.
The 11.6" display on this graphics tablet impresses with a ton of functional features. It boasts auto-toned visual colors and graphics to make for more detailed images without any distortion or color dullness.
Its HD screen provides unrivaled clarity, allowing you to review every single detail in your art to deliver the perfect job. You will enjoy the 4 customised shortcut keys on offer, which allow you to zoom in and out of your drawings whereas touch bar options provide you with easy navigation for an enhanced user-interface.
The Pro 12 comes with a PW507 digital pen that has a pressure sensitivity level of 8192. This means you don't have to use too much strength to get the desires boldness in your strokes and the 60-degree tilt specifications make the drawing experience even more satisfying.
It feels natural in your hand and offers full access to different pen controls, allowing you to make the most of its usability.
The stylus is not powered by a battery; hence it doesn't require constant charging. This means you get to channel all your focus on the drawing without worrying about the pen.
Additionally, this tablet is compact and lightweight, making it a great choice for creatives who are always on the move looking for inspiration. It is also compatible with windows 7, 8, 10, Mac OS X version, as well as other digital art software. Lastly, the package features adjustable legs that can fold at a 19-degree angle.
Wacom Cintiq 16″
If you are the kind of creative who thrives in a natural and effortless art creation process, then you should give the Wacom Cintiq 16 a try! The tablet features a screen size of 15.6", which is the sweet spot for drawing tablets. This lets you enjoy a seamless creative process once you put pen to screen.
The Cintiq is a great choice for students and other aspiring digital artists because it gives you the freedom to bring to life the creative thoughts in your head without posing any hurdles or restrictions.
The display features a vibrant 1920 x 1080 HD screen resolution to make for clear images and a pleasant viewing experience. It comes with a Wacom Cintiq 6 Pro pen 2 that offers amateur graphic designers a comfortable drawing experience. The digital pen is pretty ergonomic and feels like a natural pen when drawing with it. This allows you to create flawless and smooth artistic illustrations.
Thanks to the tablet's 8192 pressure sensitivity, even the slightest pen movements can be deduced by the screen, which lets you achieve the perfect strokes without trying too hard.
The pen's reliable grip gives you full control of the drawing process while Electro-Magnetic Resonance (EMR) eliminates the need for battery power so that you don't need to be charging it after a few hours.
Overall, Wacom tablets are extremely convenient and this is exactly what you get from the Cintiq 16. It can connect to your PC via Windows or Mac OS software. Alternatively, you can use a 3 in 1 HDMI cable to connect and the tablet supports various digital art software, including Adobe Suite, Autodesk Sketchbook, Corel Suite, Clip Studio Paint, just to name a few.
Finally, it is delivered with adjustable and foldable leg support to enhance your flexibility and help you achieve the most comfortable drawing position.
Wacom DTC133W0A One Digital Drawing Tablet

The Wacom One is a dream come true for a beginner looking to bolster their digital art skills. Its medium-sized 13.3" screen is just perfect for amateurs, and so is the Wacom One pen that comes with the tablet. You'll also like the lightweight and compact design, which gives you a comfortable time when carrying it. The display is beautiful and perfect for use for inexperienced creatives.
The Wacom One features natural-surface friction, which makes you feel like you're drawing on paper. This ensures that your transition to digital art is natural and seamless.
It impresses with minimal parallax to ensure that you get your drawing accurately. Furthermore, the response time is a respectable 26ms, making for a smooth creative experience.
Users will appreciate the limited free access to a range of graphic design software programs such as Adobe Photoshop, Bamboo Paper Pro, Lightroom, and Clip Studio Paint Pro.
With these, you have more than enough tools to maximise your potential as a digital artist, as well as the freedom to experiment with all manner of digital tools. It is a nice way for a beginner to develop new techniques and improve their skills.
On the downside, the Wacom One is not a standalone tablet, hence it must be connected to the OC at all times to function. Nevertheless, the multiple connectivity options it offers are a great consolation for those who like flexibility. Apart from USB and HDMI cable connections, you can link it to your computer using specific Android devices with the help of a third-party adaptor.
Huion KAMVAS 20 Drawing Tablet

Large screens tend to make digital art a more convenient process. They offer you a more detailed view of the images you're drawing and allow you to make the necessary changes without having to use the zoom feature. This is why many artists prefer the Huion Kamvas 20 Drawing tablet. It comes with a huge 19.5" screen to make for a seamless drawing experience.
The tablet comes with a handy stand that can be adjusted from 20-80 degrees, allowing you to achieve the perfect drawing angle. Thanks to the IPS display used, you are assured of a wide range of viewing angles.
While you'll get a slight degree of parallax, this is barely noticeable, so no hurdles during your drawing.
It also features a fast response time of 25ms. There is no lag whatsoever between when you draw and when the strokes appear on the screen. Regrettably, the Kamvas 20 is not a standalone tablet, which should restrict your movements when using it to draw.
You can connect it to your laptop or PC using a USB, HDMI, VGA, or DP cable for maximum connection flexibility.
Lastly, this drawing tablet is paired with a battery-free PW507 stylus with tilt recognition. This is easy to use and boasts a pressure sensitivity of 8192. Furthermore, the Kamvas 20 is compatible with Windows 7 or later, as well as Mac OS 10, 12, or later.
Xp Pen Artist 13.3 Pro

The XP Pen Artist is a great budget option for a drawing tablet that comes with an array of useful features, including a nice 13" full HD display. This can support 123% sRGB color space for clear and well-detailed images. Furthermore, the screen is laminated to ensure you don't experience any parallax.
The tablet is built with high-quality in a well-thought-out design to offer strong and durable performance.
The extra glass on top of the screen helps to reduce glare while making scratch-resistant. One of the best features on the Xp Pen 13.3 is the arrangement of 7 shortcut buttons along the dial, which provides you with easy access to different tools for a smooth drawing experience.
The Red dial is a crucial shortcut feature, which performs tasks like zooming, panning, scrolling, as well as changes the size of erasers and brush es by simply rotating it. A battery-free passive stylus is paired with the Xp Pen to offer uninterrupted drawing. This is ergonomic and feels comfortable to grasp, even while working on extended drawing projects.
The stylus also features an impressive 8192 pressure levels to go with a well-balanced pressure curve, as well as accurate pen tracking. Overall, this tablet allows you to make the most of shortcut keys during your digital art process for a joyous experience.
Conclusion
If you are an amateur graphic designer trying to improve your digital art skills, getting a drawing tablet is the first step to becoming a pro. Luckily there are many cheap devices available on the market to give you a soft landing into the digital art space.
Make sure you watch out for the above-reviewed best cheap drawing tablets with built in screens when you finally decide to get one!
FAQ
How Does a Drawing Tablet Differ from a Graphics Tablet?
A graphics tablet does not come with an actual screen, Rather, it has to connect to a separate monitor to function, usually a PC or laptop. Anything you draw on the tablet is projected onto the PC's monitor in real-time.
Although they are gradually becoming out of date, graphics tablets tend to be shock-proof and rarely suffer damage, proving to be long-lasting.
On the other hand, a drawing tablet comes with a fully-functional onboard computer, as well as a digital screen where you can draw and see the image in real-time. Drawing tablets are the more contemporary gadget for digital artists and provides the perfect canvas to sketch and draw. Unlike graphics tablets, they are easily damaged and more expensive.
Are Graphics Tablets a Necessity for Graphic Designers?
Graphic designers don't need a graphics tablet. They can do just fine with a mouse and keyboard. Nevertheless, a drawing tablet is a more apt device that makes the creative process much more seamless for designers.
This is especially true for artists that are used to drawing on paper. It gets much easier with a drawing tablet!
Why are Drawing Tablets Hard to Used to?
The transition from drawing on paper using a pencil to drawing on a tablet using a digital pen involves a significant learning curve. Drawing on a slippery glass surface can be quite a challenge for first-timers and a totally different experience from what you get from a pencil and paper. It takes some time to get used to but eventually proves to be a simpler process. Furthermore, it allows for more detailed drawing and makes reviewing your work a more pleasant experience.
How Durable are Drawing Tablets?
Overall, various factors determine the shelf-life of a drawing tablet. Firstly, the quality of the tablet is one of the major influences; the cheaper it is, the shorter it will last. Another factor is how often you use the tablet. If you put a lot of man-hours into drawing on the tablet, then chances are you'll be reducing its durability.
Maintenance is the other factor that comes into question. If you keep on dropping your device now and then, then it's only a matter of time before it goes off for good.
References
https://en.wikipedia.org/wiki/Graphics_tablet