Subscribe

to Almostism How Artificial Intelligence is helping in drug development

Sumitomo Dainippon Pharma Co., Ltd, Japan and Exscientia Ltd., UK have announced the Phase I clinical trial of DSP-1181, a drug created using Artificial Intelligence (AI). The drug aims to treat obsessive-compulsive disorder (OCD). The trial begins in Japan from March 2020. The company claims it is the first instance of using AI to develop […] The post How Artificial Intelligence is helping in drug development appeared first on Technology services...

Sumitomo Dainippon Pharma Co., Ltd, Japan and Exscientia Ltd., UK have announced the Phase I clinical trial of DSP-1181, a drug created using Artificial Intelligence (AI). The drug aims to treat obsessive-compulsive disorder (OCD). The trial begins in Japan from March 2020.

The company claims it is the first instance of using AI to develop a drug that's being tested on humans.

Pharmaceutical expertise was contributed by Sumitomo Dainippon Pharma. Exscientia, on the other hand, provided the technology by using its Centaur Chemist AI platform.

In another instance, Deep Genomics, a Canadian company, had announced that it had used AI to fully understand Wilson's disease. It has also used AI to detect a potential treatment for the same. Wilson's disease is a rare genetic disorder where excess copper builds up in the patient's body, often reaching life-threatening levels.

Is computing technology beginning to replace human researchers?

Will these developments set the standards for research in other fields?

Are we on the cusp of a new scientific revolution?

The contribution of modern technology in pharmaceutical industry is all too well known.

In this post, we begin by looking at how Exscientia used AI for drug discovery. We discuss whether AI is indispensable in the pharmaceutical industry.

Next, we look at a few pharma companies using AI. We also ask if AI in drug discovery is over-hyped. Finally, we look at the key challenges for wide-scale AI adoption in pharma companies.
How AI platform is used for drug development
To understand how AI develops drugs, let us understand the standard cycle of development of drugs.
Researchers identify a target protein that's causing the disease. They study such proteins carefully and for a long time. Otherwise, there's a big risk of losing huge amount of money on the wrong protein. Also, there's an added risk that the protein would be related to the disease, but isn't the one that's causing the disease.
Next, the research process tries to find a compound or a molecule that would influence the protein. In order to influence the disease-causing protein correctly, the compound should be able to alter the protein. Due to this alteration, the protein will no longer be able to continue contributing to the disease.
During this process, inefficient compounds are tossed aside and only safe, efficient compounds are taken further.
So what is the role of AI in drug development?
Because there are hundreds and thousands of molecules out there, human researchers cannot manually test each of these molecules.
Yet, without testing each of them, there'd be no way of knowing which molecule would be the most appropriate to fight a certain disease.
So this is what AI platforms do. First, experts will feed in them parameters. They rummage through all the molecules. Each of these molecules is compared against the parameters.
Because it's an intelligent system, the AI platform will keep learning and thereby identify one or more compounds that it finds most equipped to fight the disease.
How data is fed into AI for drug development
Today, research, feedback, reports, patient records and a whole lot of other things add massive amount of data on each disease. It is becoming close to impossible for humans to process or utilize all that data. Artificial Intelligence systems, on the other hand, are perfectly equipped to sift through all the data and make meaningful interpretations out of that.
There many, many channels of feeding data to the AI system for drug development.
One source of the data is, obviously, patients suffering from that data. This data is collected from patients at different stages of the disease.
But there's more.
Data is also collected from people without the disease. Deep-learning programs run both the types of data and learn more about proteins whose presence makes a difference between a healthy patient and an ill one.
The machine learning abilities of the system strives to find and establish connections between proteins and diseases.
The importance of AI in drug development
As mentioned earlier, the huge amount of data that we produce isn't easy to handle for humans. Here are some reasons why AI is becoming more important to the pharmaceutical industry:
Costs: The cost of bringing drugs to market has roughly doubled in the decade 2003 to 2013. Also, the returns on research have dropped from 10% to less than 2%. AI, with its accuracy, has the promise of improving this.
Speed: The lab-to-market time has increased to 12 years. If AI can really deliver as some people hope today, regulatory agencies could be more trusting. That means AI-developed drugs could be given a pass over animal testing models and move straight to patients.
Innovation: It might sound like a bit of exaggeration, but drugs for simple diseases have all been discovered. The ones that haven't found any cure are the ones that are complex. Drugs for such diseases are difficult too, and AI with its deep-learning mode might turn out to be the right solution.
Bias: Human researchers, no matter how hard they try, might often be limited by their personal preferences and biases. As a result, they may chase compounds and proteins based on their bias and hunches. Such an approach costs huge amount of money. AI can be free from such prejudice, making the process more cost-effective and less error-prone.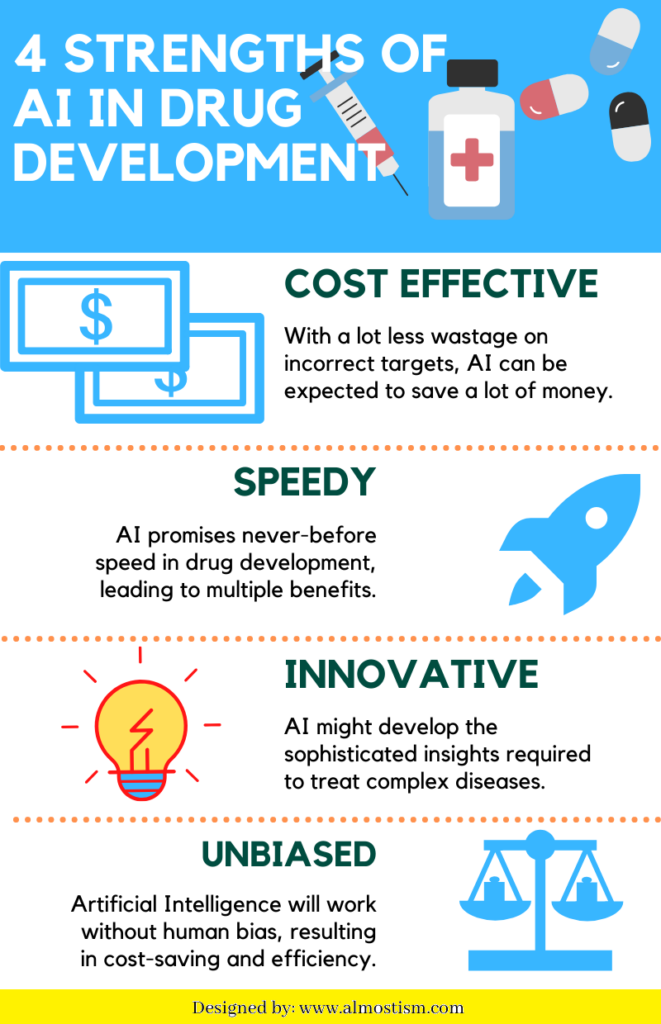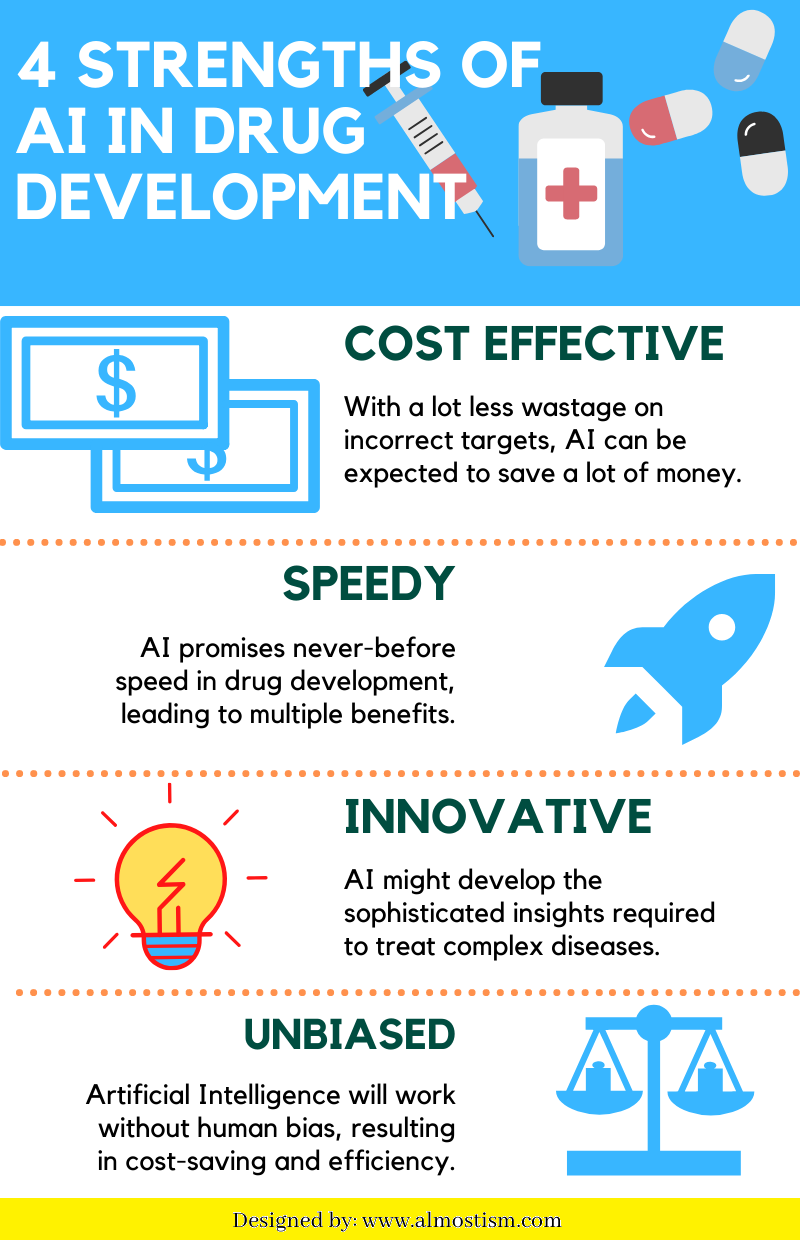 Which pharma companies are using AI to develop drugs
Here are the major companies that are using AI to develop drugs:
Genetech is looking for cancer treatment with the help of the AI system of GNS Healthcare.
Sanofi is working with Exscientia on metabolic-disease therapies.
Atomwise is trying to find new treatment routes for drugs that are already found and in use. It is interesting to note that the technology used here is the one that's used in facial recognition.
Deep Genomics has already announced that it has understood Wilson's disease, with the aid of Artificial Intelligence.
Lantern Pharma is using AI to sift through the records of failed drug trials in order to apply corrections.
Pfizer is using IBM Watson. The objective is find cancer drugs, or more specifically immuno-oncology drugs.
What can AI do in future for the pharmaceutical industry
Despite all the claims by various experts (both in pharma and AI sector), there are many who think much of this is over-hyped.
Nevertheless, AI holds a lot of promise. Here are some of the expectations on what AI can do for diagnosis, drug development and treatment in future:
Deep learning could create and make meaning out of a large pool of annonymized data collected from all over the world.
Artificial Intelligence may aid in early detection of dangerous diseases like cancer.
AI would be able to find individual compounds that can act on just the right proteins, without impacting or disturbing the rest.
AI would ultimately be competent enough to knock off a few years from the drug-development cycle. In other words, drugs would hit markets and benefit patients earlier.
Sophisticated and specially trained AI systems may be able to provide patient prognosis.
Once regulators and researchers can trust AI enough, we may see many drugs permitted to pass over animal testing and directly moving to human trials.
Challenges for AI in drug development
While the future expectations mentioned above sound exciting, there are a sizeable number of challenges that AI will have to battle before machine learning, deep learning and artificial intelligence can significantly contribute to drug development.
Here are the top 5 challenges AI faces in the pharma sector:
Challenge 1: Absence of clear regulations. To be fair, this isn't a case of regulators going slow. The fact is there aren't enough precedents – at least, not yet – for regulators to form appropriate and encouraging laws. And let's not forget the goals of regulations and innovations are often contradictory. The first is always slow in accepting in change while the second is in a hurry to usher change.
Challenge 2: Poor quality of data. In spite of tall claims, the fact remains that bad data will only produce bad results. While we do have a lot of data today, we do know a lot of is bad. By bad data, we mean unreliable, inconsistent or simply poorly structured data. In all these cases, AI will likely come up with poor solutions.
Challenge 3: Quantity of data. Do we really have a lot of data? Not always. As a matter of fact, there are a huge number of diseases where data is conspicuous by its near-absence. Because only rich data can produce results – at least as of now – we need AI systems that can make sense out of small data. In contrast, social credit systems in China had humungous data to learn from.
Challenge 4: Lack of trust. How many patients might be willing to trust drugs developed by AI? Because the mechanism is far from being in place, the acceptance of such drugs will take time.
Challenge 5: Misdirected research. There is always a good chance that AI will expend all its energy only to come up with drugs that are already discovered. While this challenge can be handled with relative ease as compared to the other challenges, a company always runs the risk of losing a lot of money this way.
Concluding remarks
Just like any other nascent technology, a lot of mystery, fascination and distrust surround the use of artificial intelligence in development of medicines.
Yes, we are beginning to see the first signs of momentous tremendous changes AI might bring in. However, the AI technology itself isn't advanced enough to fully understand and independently design less complicated machines. In that situation, the skepticism of critics is understandable.
The fact remains that we will need more information, more studies, more endorsements before we can fully accept AI as a reliable drug development tool. Till then, we will have to continue double-checking everything.
Sources:
1. Mayo Clinic
The post How Artificial Intelligence is helping in drug development appeared first on Technology services news.
How modern technology in pharmaceutical industry will make an impact
When you hear technology in pharmaceutical industry, what's your first thoughts? Probably chemicals, labs and large machines. That's no longer the case. Some time back, Amazon and two other companies started off a healthcare startup Haven. Technology is strongly helping the pharma industry. Read more about the 5 ways pharmaceutical industry is using technology: 1. […] The post How modern technology in pharmaceutical industry will make an impact appeared first on Technology...
When you hear technology in pharmaceutical industry, what's your first thoughts? Probably chemicals, labs and large machines.
That's no longer the case. Some time back, Amazon and two other companies started off a healthcare startup Haven. Technology is strongly helping the pharma industry. Read more about the 5 ways pharmaceutical industry is using technology:
1. Helping patients build therapy adherence
Have you ever had to undergo physiotherapy? Till the time you go to the physiotherapy center, you continue doing the prescribed exercises. The moment the schedule at the physiotherapy center ends, you probably stop exercising by yourself.
That's because a number of reasons, but here are the two principal ones. One, there's no third-person watching you anymore. And two, there's no longer any accountability – if you don't continue the exercise or therapy yourself, no one's going to ask you.
Pharmaceutical industry can design gamified platforms that will ensure adherence to therapy, as Samina Vaziralli recently mentioned in an interview with Mint.
This is how the platform can likely work. First, it has the therapy details mapped out for you. Next, it records how faithfully you've carried out the therapy on each day. Based on that, it predicts your fitness level in future.
Next, the platform can show you what you're missing out by skipping therapy. Further, it can create a leaderboard of everyone connected (anonymously) to the platform and show you where you stand. Being ranked publicly can be a great motivator.
2. Providing guidance in emergencies and odd hours
It's 2:30 am in the morning and suddenly your four-month old begins crying uncontrollably. It has not soiled the diaper, it was fed at the right time, it's not running a fever… what could possibly be wrong?
As a young mother – especially if you're a first-time mother – your lack of experience in handling such emergencies could raise your anxiety levels.
Someone with a great of deal of experience can be very helpful at such times, right?
Think of a platform, a digital solution that provides you with some immediate counseling and guidance. Remember, the digital solution isn't a substitute for a doctor – at least, not yet – but think of it as a stand-in. The platform could quickly walk you through the symptoms and do one of the two things:
a. It shows you some of the likely causes of your baby's discomfort. Maybe it's a temporary colic, maybe she has a rash, maybe… The next stage could be how to tackle that, assuming that it's a small matter that doesn't need any medical attention
b. It understands your baby needs medical attention. In that situation, it will show you the available doctors and hospitals – probably it's integrated with a cab service too, if you need one. The platform can also help you fix up an emergency appoint and alert the hospital or the doctor in charge, so that by the time you reach there, some primary arrangements have already been made.
3. Building communities and engaging better
Sometimes pharma companies don't need to build products, design tools or invent new drugs to help patients. They can provide support and assistance by building online communities.
Sanofi, the US pharma company, has built a Facebook page that's entirely dedicated to people suffering from diabetes.
So what does the page do?
A lot actually. To begin with, the page promotes awareness of diabetes (often called the silent killer). It shares tips and advices on preventing, managing, and fighting the disease. It shares diet plans that are low on sugar and high on protein and nutrients.
Because people also share their experiences on keep major risks at bay using a wide variety of combinations that may include exercise, proper diet, medications, and other stuff, the online community remains thriving.
4. Involving patients in product design and research
Medical science is not only about drugs and injections. It is about restoring the health and well-being of people. And that includes helping people back to their normal lives as soon as possible after they've met an accident.
Consider a special prosthetic limb being designed by a pharma company for an amputee. How would the company know the beneficiary finds the solution perfect?
And the best way would be to collect feedback and that's what Artificial Limb Centre, Pune (India) did. They conducted a patient satisfaction survey for all the 200 patients who were provided prosthetics in the hospital.
The results were surprising. One would imagine the maximum dissatisfaction would be expressed over factors like comfort in wearing or problem in putting steps.
It turned out that a little over half (52%) expressed dissatisfaction over "Perspiration while wearing" as the single biggest factor in wearing prosthetics!
Such feedback and understanding goes a long way in product design because they democratize healthcare and caregiving.
5. Putting data analytics to use
Of the 7 billion plus humans on the planet right now, almost all of them have fallen ill sometime or the other. They have battled the entire range of diseases ever known to humankind – from common cold and headache to cancer and AIDS. China is showing the way by using a lot of data to build its massive social credit system powered by AI.
In the process of their falling ill and treatment, countless pieces of information (read data) were collected. However, only a small percentage of that may have been diligently recorded and an even small proportion is put to use for research.
Wouldn't it be wonderful if our highly advanced computers, capable of number crunching like no human can dream of, could make sense out of it all? Wouldn't it be great if AI, machine learning, and big data in the pharmaceutical industry could become more widespread?
Zeynep Erden, a Professor of Strategy and Innovation Management at a B-school in Zurich, Switzerland, says, "Thanks to sophisticated analysis techniques firms will be able to improve their understanding of disease pathways, to plan clinical trials more efficiently and to take timely decisions to stop projects with little chance of success."
Pharma companies are beginning to turn digital in the sense of engaging better with everyone involved in the healthcare sector – from suppliers and patients to doctors and caregivers. Feeding that learning back into their system gives them an opportunity to not only serve the healthcare sector better but also to stay ahead of competition.
Conclusion
The pharmaceutical industry hasn't been late in adopting technology, but the pace isn't what it is in other industries. The use of technology in the pharmaceutical industry throws up as many challenges as opportunities.
On the one hand, the pharma industry is building systems to help patients adhere to therapy schedules, provide emergency help, build communities, involve patients in product design and put machine learning to use.
On the other, the industry is under pressure for better standards, better quality checks and better accountability from industry watchdogs and alert patients alike.
In the middle of all this, optimal use of advanced technology in the pharma sector appears to be their best bet.
The post How modern technology in pharmaceutical industry will make an impact appeared first on Technology services news.
9 ways AI is changing the world of sports
The use of artificial intelligence in sports isn't a major surprise, given the advancement in technology. Rise in computing power, availability of massive amount of data and an increased willingness of stakeholders to leverage such tools are the three principal reasons why the role of artificial intelligence in sports has gained a lot more importance […] The post 9 ways AI is changing the world of sports appeared first on Technology services...
The use of artificial intelligence in sports isn't a major surprise, given the advancement in technology. Rise in computing power, availability of massive amount of data and an increased willingness of stakeholders to leverage such tools are the three principal reasons why the role of artificial intelligence in sports has gained a lot more importance recently.
Someone who thinks the application of artificial intelligence in sports is limited to improving the performance of players is in for a pleasant shock. That's because there are many more avenues where AI is used.
Here we list 9 applications that AI has found in the world of sports.
1. Scouting for Talent and Player Recruitment

A lot data were earlier were either not noticeable, recordable, or not easy to make sense of. Using data science in sports allows teams, coaches and selectors carry out a deeper analysis of complex metrics of potential teammates or players.
Besides, there were areas within players' performance that were not possible to study, owing to the natural limitations of humans perceptual abilities. Wearables are making such data and recording possible.
With machine learning platform for sports analytics, it's easier to identify how each player is unique and what unique set of skills they bring. Further, with the help of big data, we are coming closer to building reliable, sophisticated models that intelligently calculate the probability of talent a player can bring.
2. Analyzing Workout and Training Effectiveness

Artificial intelligence is fast building up expertise in building a correlation between quantitative, measurable variables (e.g. runs, goals, timing) and qualitative factors (e.g. concentration, ability to strategize, teamwork).
AI can help put together teams where players best complement each other. To do that, it must first see how and whether the workouts and training programs have been effective in preparing the players.
For deeper analysis, PIQ and Everlast developed what is perhaps the first AI-powered wearable for combat sports like boxing or martial arts. Using machine learning platform, the device captures and analyses small variations in the actions of the boxer. This helps the system understand how successful the training and workouts have been in bringing about a positive change in the boxer.
This information is channeled through a mobile phone app into a leaderboard. This leaderboard displays the performances of all other boxers and points how where individual boxers stand vis-à-vis others.
Such apps can also offer tips on nutrition, fitness guides and personalized training programs that help sportspersons better achieve their goals.
3. Designing Coaching and Performance Improvement Programs

Artificial intelligence is already being deployed in education in China in a big way. So it shouldn't be surprising to see AI helping sports coaches.
One good way to understand how AI is transforming sports is by studying the role of AI in helping coaching, especially in competitive sports.
Artificial intelligence removes or drastically reduces some of the weak spots in traditional coaching. For instance, professional coaches need to spend years sharpening their skills, and yet there is always some probability of committing an error or overlooking something.
Computing technology can resolve this problem by providing accurate analysis and speed up the process of consistently providing correct analysis. For instance, artificial intelligence could carefully study and analyze the bowling action of a bowler and suggest a training plan that could help the bowler achieve better results.
Constant monitoring of health and fitness parameters, using devices, could prevent injuries. It could spot things like repetitive stress injury before it temporarily or permanently stops a player from playing. Thus, it can end up being an invaluable assistant or perhaps a substitute to the team's medical professional.
4. Creating Better Fan Experience

If there's one thing organizers and broadcasters are keen to do in sports today, it's pleasing fans and creating a superior experience for fans. It appears that artificial intelligence in sports management can do this pretty well.
It can begin with the way fans buy tickets, or rather 'smart ticketing'. That means fans get a variety of options of buying tickets with variable seating options across the different games they attend.
Fans could choose to sit with different people during different times – for instance they could sit with their family during some games and with friends or business associates during other games.
The San Francisco Deltas, a new soccer team, is believed to be trying to leverage AI to improve fan engagement.
Next, artificial intelligence could place more choices in the hands of viewers. It could build algorithms that allow build match highlights in forms and lengths that viewers want.
Besides that, the logistics at the game venue could significantly change fans' experience. Better parking and availability of quality food and merchandise could help fans get a thrilling experience at the game venue. At events like a marathon where there's a large number of participants, logistics powered by AI can impress both participants and the fans.
AI is creating sports merchandize that's not just dependent upon the trend but also based on the fans' preferences emotions and reactions.
Finally, chatbots that could respond to fan queries with basic statistics could also make a sizeable difference.
5. Optimizing Advertising Opportunities

Brands could soon be getting better advertising opportunities, based on the top moments of the game as identified by artificial intelligence.
The automated learning algorithm monitors players' actions, spectators; emotions and expressions, and commentators' language to understand which moments of the game are the most exciting or thrilling. IBM has tested Watson to do this in Wimbledon 2017.
Based on this, advertisers would be recommended time slots where their ads, if displayed, could earn optimum engagement.
Apart from offering better value to advertisers, machine learning will help sales people point out parts of the game they can sell better to prospective advertisers.
6. Maximizing Broadcasting and Streaming

One of the key ways sports broadcasting companies try to remain favorites of viewers is by providing quality coverage. That includes great photography, high-quality relay, excellent commentary, interesting graphics based on statistics and language that viewers prefer most.
From the looks of it, artificial intelligence is about to make a huge impact on all of this. To begin with, AI can help choose the most appropriate camera angles both during the match and also while choose replays or re-runs. Any sports fan will tell you how important angle is in photography of almost any sport.
Next, AI can provide accurate and timely statistics to commentators so that they may provide a better real-time commentary. Also, the system can be tuned to allow subtitles in different languages in case of live events, based on the viewers' choice and location. Beyond this, broadcasters can use to identify correct opportunities to display ads. A combination of all this will provide a better viewing experience.
7. Leveraging Automated Journalism

Automated journalism powered by AI is likely the next big thing in sports broadcasting. The core idea is simple but the applications are powerful: let machine learning evolve into a technology that can prepare readable reports on sports events.
AI is being used to build videos that better capture the highlights of the day's match. It curates the most exciting moments of the event and compiles it into a video. When done manually, this task took considerable number of man hour, but with the use of AI the time required for the same task can be reduced considerably. This will help media houses cut their time to market for every video.
Wordsmith, a solution built by Automated Insights (Ai), is capable of processing data of the sporting events to quickly produce summaries and stories of the major event of the day. It is capable of understanding style, language norms and grammar rules while crafting the story.
What's more, there has been research into getting AI deliver cricket commentaries that are 90% accurate.
8. Managing Safety in Games

One answer to how AI is improving sports is the way it helps better manage parking, reduces congestion and improves the overall experience safer by cutting the chances of mishaps due to poor or bungled parking arrangements.
There's more too: in sporting events like car racing, safety is a much bigger issue than in sports like, say, swimming or volleyball. Here, AI can use deep learning to develop and improve self-driving cars. These cars will be tested for safety before human drivers use them.
9. Making Refereeing More Accurate

One of the earliest uses of technology in sports is in aiding referee decisions.
For example, in lawn tennis, high-speed cameras have been used to make "in or out" decisions. In cricket, the Hawk-Eye technology has been used in assisting umpires whether the batter is lbw.
Using technology makes the sports event fair and more rule-abiding. It brings in more objectivity in decisions of the referees or umpires. In games like cricket where the batter often gets the benefit of doubt in cases where it's not possible to judge accurately, the use of technology and AI will make it a more level-playing field.
The system will be able to learn quickly over time, using data to classify position, shots and player stance or positions. As machine learning gets better, rule-infringement will become a great deal accurate and consistent.
Conclusion
It is not easy to trace the introduction of artificial intelligence in sports, but what is sure it is here to stay. It might have started as something of novelty value but quickly became something that gave a competitive advantage to players and teams.
Going forward, it will become a standard fixture, sooner than we think.
Additional reference: CIO
The post 9 ways AI is changing the world of sports appeared first on Technology services news.
Artificial intelligence in Indian agriculture
To some, innovation in farming in India has already arrived in form of Artificial Intelligence (AI). To others, AI applications in the agricultural industry in India appear superfluous and primitive, and likely carry limited potential at best. In India, modern technology in agriculture, often written as Agtech or Agritech, represents hope. That's because traditional farming […] The post Artificial intelligence in Indian agriculture appeared first on Technology services...
To some, innovation in farming in India has already arrived in form of Artificial Intelligence (AI). To others, AI applications in the agricultural industry in India appear superfluous and primitive, and likely carry limited potential at best.
In India, modern technology in agriculture, often written as Agtech or Agritech, represents hope. That's because traditional farming practices often fall sadly short when facing challenges like changing climate conditions and global warming.
Technology giants as well as startups are trying to combat several issues by building farming, irrigation and weather technology solutions. For example, Microsoft precision agriculture attempts to "democratizing AI for farmers around the world". Startups are finding ways so that farmers can receive various inputs and suggestions over feature phones – even a smartphone isn't required.
China, a country that faces nearly the same challenges as India does, is growing at a swift pace when it comes to AI. It is deploying AI to build the now well-known social credit system of China. Some China's top AI companies are world leaders. And to coordinate everything, China has built a long-term action plan for AI.
All this makes it important to understand where India stands in AI. This article covers details of applications of artificial intelligence in agriculture and the future of AI in agriculture in India.
Context for agriculture automation in India
Consider the following:
The agriculture and the allied sector contributes less than 16% to its US$ 3 trillion economy today. (Source).
Agriculture directly employs 41.1% of India's working age population (Source).
Nearly 50% of India's land is tilled (Source: Agriculture Census, 2015-16)
So here's the paradox: To create one-sixth of the total Indian economy, it takes nearly half of India's land, and that too while employing 2 of every 5 Indians.
This underlines the fact that Indian agriculture is nowhere close to being productive. While the government's initiatives like the Green Revolution have certainly made the nation self-sufficient in food grains, there is a long, long way to go for agriculture to catch up with other industries.
No prizes for guessing that the answer lies in automation in agriculture, deploying advanced agriculture technology like robotics, AI and Machine Learning (ML).
How AI could benefit agriculture
Agritech has found a worthy partner in AI. In India, the role of artificial intelligence in agriculture can be much bigger than in any other field. That's because it can reduce costs, improve quality, increase productivity and optimally use resources.
Here are a few use cases that showcase the use of AI in agriculture in India and how self-evolving systems can take agriculture to the next level in India:
1. Soil Analysis and Monitoring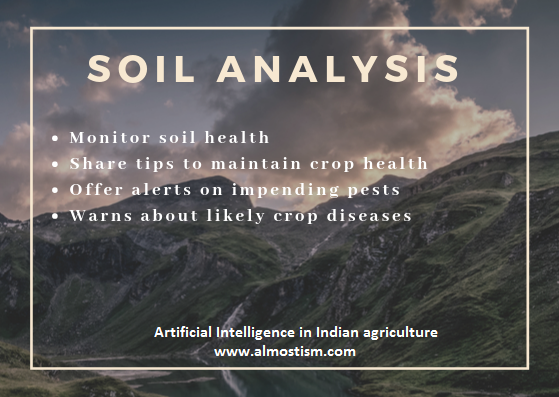 Objective: Monitor soil health and identify specific needs of the soil in general and also in particular reference to the crop targeted
Who is doing it: CropIn, Bengaluru.
Details: The company reports the experiments it conducted in farms that had a collective size of 5,200 acres. The company helped in remote sensing and weather advisory. Based on data collected and analyzed, it offered tips on scheduling and monitoring at various stage of farming. It also offered farmers training on how to maintain and monitor crop health and offered alerts on impending pests or diseases.
2. Image Analysis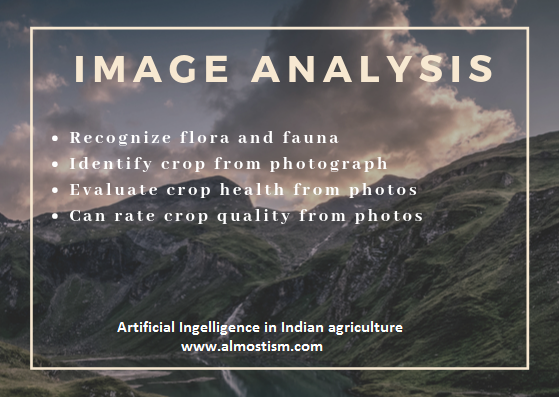 Objective: Recognize faces, flora and fauna and other objects and tag them in images
Who is doing it: Intello Labs, Bengaluru
Details: Intello claims it leverages deep learning algorithms for a variety of activities. A click of a photograph can identify the crop's health. That will tell the farmer what, if anything, needs to be done. The technology can also identify the quality of the harvested product using the photograph. As one of the leading agricultural robotics companies in India, Intello says it can also offer alerts on pest infestation.
3. Predictive analysis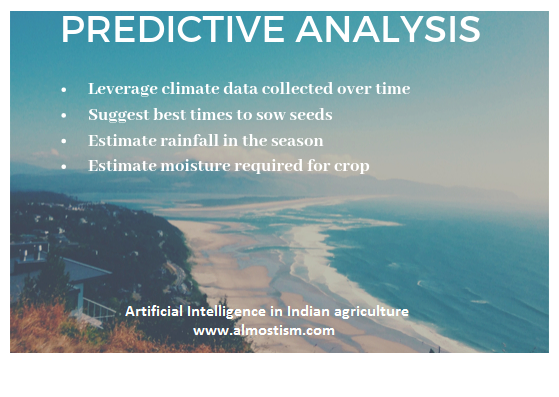 Objective: Suggest the right times to sow the seeds without expensive investment on the part of farmers
Who is doing it: Microsoft India
Details: The AI-based app for sowing that Microsoft tested relied on the climate data collected over 30 years (1986-2015). An important metric MAI (Moisture Adequacy Index) that estimates the amount of rainfall and moisture required for a good crop was calculated. Then it estimated the best times to sow crops. At the right time, farmers were sent automated voice messages and text messages. Farmers just needed to have a basic mobile phone (a feature phone). Farmers did not require have any scanners or any other expensive instruments – that's the power of new-age agtech.
4. Supply chain management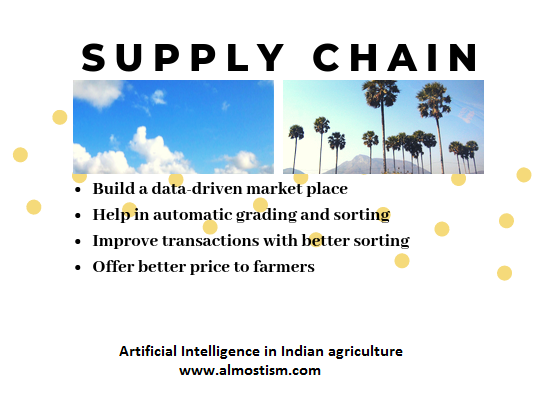 Objective: Deliver a data-driven online marketplace for agriculture that offers better prices to farmers as well as buyers
Who is doing it: Gobasco, Lucknow
Details: The advantage that Gobasco brings, according to the company, is the AI-optimized automated pipelines for the agriculture produce supply chain. The company further claims they have designed the supply chain keeping mind the India. Apart from the supply chain, the technology tool is supposed to help farmers in automated grading and sorting, leading to smoother transactions for domestically and internationally.
5. Crop cycle expertise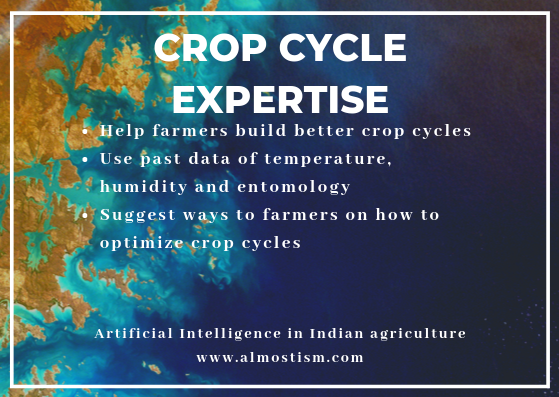 Objective: Help farmers build better crop cycles
Who is doing it: Gramophone, Indore
Details: A problem that AI-powered chatbots in agriculture need to solve is figuring out the correct crop cycle. Gramophone claims to have invested two years in ground work. Their technology platform leverages ML as well as AI for predictions that range from pest infestation to pricing. Based on the data of temperature, humidity and entomology, the company seeks to provide "personalized farm management solutions" that would guide farmers for the optimal cropping cycle.
6. Farm produce aggregation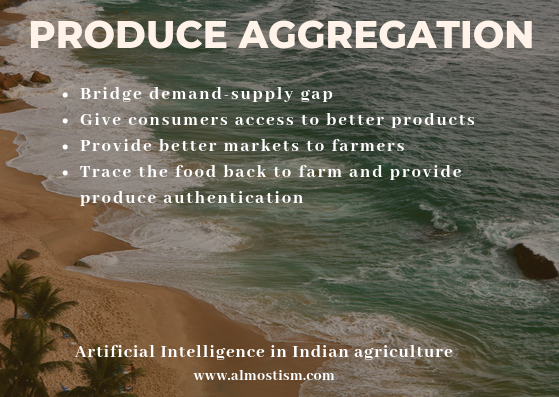 Objective: Bridge supply demand gap of agricultural produce
Who is doing it: Jivabhumi, Bengaluru
Details: The scope of AI in agriculture in India can be understood from the way the technology can provide an efficient platform for buyers and sellers of agricultural produce. According to Jivabhumi, their tool will bridge the gap between farmers looking to find markets and consumers looking for affordable agricultural produce. The agtech solution, using blockchain, is capable of tracing the food back to the farm, something that can ensure buyers of the safety of the food they buy.
7. Farmer Advisory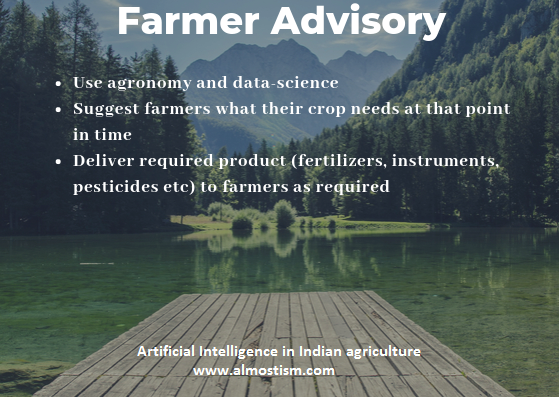 Objective: Provide comprehensive advice and tips along with required service
Who is doing it: Agrostar, Pune
Details: Agrostar claims to be using a combination of knowledge of agronomy, advanced technology and lots of data to offer advisory services to Indian farmer. Currently operating in the three states of Gujarat, Maharashtra and Rajasthan, Agrostar offers service that begins by helping the farmer identify what their crop needs at the moment and ends at doorstep delivery of whatever is needed. This is perhaps how digital farming in India can lead to a more efficient agriculture industry.
Video on how agriculture in India can benefit from AI
Here's a short video showing how artificial intelligence can help agriculture in India
***
References:
2. Emerj
4. Respective company websites
The post Artificial intelligence in Indian agriculture appeared first on Technology services news.
China experiments with AI in education
China has been putting Artificial Intelligence (AI) to use for a number of reasons, like using AI for a social credit score. However, a Chinese company, Squirrel AI learning, is taking AI into a different sphere: education. As covered by MIT Technology Review and Futurism, Squirrel AI is spearheading AI-enabled education in China. If you […] The post China experiments with AI in education appeared first on Technology services...
China has been putting Artificial Intelligence (AI) to use for a number of reasons, like using AI for a social credit score. However, a Chinese company, Squirrel AI learning, is taking AI into a different sphere: education.
As covered by MIT Technology Review and Futurism, Squirrel AI is spearheading AI-enabled education in China. If you think Squirrel is your typical small start-up, it is anything but.
Having trained over a million students, Squirrel is quite possibly a game-changer.
Here's how AI works in education
The challenge, or the main task, is to diagnose the learning gap of students that will later undergo training.
Here's a video that explains the 5 steps of how AI works in education. Detailed post follows.
Step 1:
To analyze that, and to ensure a learning experience better than delivered by a human teacher, AI breaks down every subject, every topic to a granular level.
For example, the technical and scientific teams sit down with teachers and break down primary school science into, say 5,000 elements or smallest conceptual micro-topics.
Step 2:
Next, the student will be put through a test covering these topics. Every question is framed keeping in mind a certain micro-topic. As a result, when a student answers a question correctly, the AI system assumes the student knows this micro-topic well and places the student at a certain level for that particular micro-topic.
Step 3:
As the test proceeds, the AI keeps refining its judgment about how much (and what) the student knows about each micro-topics.
Step 4:
Based on what the system learns about the student, the AI will frame a curriculum.
Step 5:
Using the curriculum, the system will draw out from its bank relevant video lessons, tests and other teaching resources that are tailor-made for the student.
Why AI in education in China
It's not very difficult to figure out what is driving China is pursuing its ambitions for using AI in education in a big way. The MIT Technology Review points out three reasons:
Incentives: The Chinese government offers various tax breaks and incentives to AI ventures. And artificial intelligence ventures in China that having anything to do with school, education and learning are even more welcome. Businesses, therefore, find the idea of using AI in education doubly attractive.
Competition: There's fierce competition in China when it comes to education. Success in tests like the National College Entrance Examination, popularly known as the GaoKao, are virtual passports to success in professional life, so parents don't hesitate in shelling out more money for anything that can improve test scores. With 2,914 universities and colleges teaching 20 million students in China, there cannot be too many markets that are bigger.
Data: Companies and AI startups in China have massive amount data – something that's the fuel for AI. Not utilizing these mountains of data for academic and commercial purpose may appear pointless to China.
Apart from above, here are two more reasons why China is so keen in pushing AI in education.
4. Conformity: AI can bring in conformity in terms of ideologies and pedagogy. As the rest of the world opens up to more and more wider ideas, China will have to make sure its citizens don't grumble and toe the line when required.
5. Efficiency: You know how huge China is. Using technology to improve education can tremendously save resources for a nation that's in a perpetual state of hurry to bring technology in everything.
The benefits of AI in education
Here are the six major advantages of using Artificial Intelligence in education:
Once designed properly, a machine powered by AI can take note of the exact level of teaching the student needs and begin there.
AI can give students more control and power over what and how they learn, as also the pace at which they learn.
AI-powered education will be consistent in its accuracy, unlike humans. That will remove the subjectivity out of teaching, testing or grading.
Education delivered through the help of AI can be re-used without almost any additional costs. That means, the costs reduce rapidly.
Delivering education with the help of AI can remove human bias in the subject.
Artificial Intelligence has the capacity to generate interest in a particular subject for a student. That's because it can precisely figure out what the student is missing and how to fix it.
The downsides of using AI in education
Just like any other technology, the use of Artificial Intelligence in education is not without its own risks. Some of the disadvantages of using AI in education are:
It can standardize things like any other machine. That means the teaching process can become extremely uninspiring.
Because AI in education aims to achieve standardizing, it will have to remove all vagueness out of the way. That will keep trainees and students ill-prepared for future scenarios that the rapidly changing world around them.
Any AI company or technology that dominates the edutech industry could potentially infuse any cultural, racial or gender bias into the minds of its students.
Most aspects of this technology is in testing phase and it's nearly impossible to predict the social impacts over time. Without establishing standards for AI (something that Europe could be doing), it's definitely risky to implement AI for education.
Like it or not, AI might be the future of education
Well, that sounds a strong sentence. And vague too, considering that it does not specify a time-frame.
What is certain is that Artificial Intelligence is the future of education. What is not certain is how it will turn out and how fast.
Consider this: Every child is unique and so their requirements to learn are unique too. Children have their own pace of learning.
If there's a class of, say, 30 students, there will be likely 30 levels of understanding, since no two children may understand exactly the same kind of things.
The traditional human teacher, though extremely powerful, falls seriously short in serving the needs of each of the 30 students.
Which is where AI comes in.
AI can serve not 30, but thousands of students who have thousands of different levels of learning. And that too without losing efficiency.
Estimates vary a little too much to fully rely upon fully but here's what it could look like this: With AI, students have a learning efficiency that's five times of that when they're taught by human teachers.
Squirrel AI quick facts
Squirrel AI is the leading EduTech company that's driving AI-backed education in China. Here are some quick facts about Squirrel:
Founded: 2014
Type: Privately held
Number of employees: 1,000+
Country: China
Founders: Derek Haoyang Li, Jason Wei Zhou, Wei Cui
USP: First EdTech company in China to focus on AI
Number of centers: 2,000
Product: Yixue Squirrel AI, the first domestic adaptive learning engine
Cities covered: 200
Funding raised: US$ 180 million
Valuation status: Unicorn (over US$ 1 billion)
Research facilities:

AI-driven lab in New York
Yixue AI Lab with SRI International
Research association with Carnegie-Mellon University
References:
Source of the main image: Squirrel website
The post China experiments with AI in education appeared first on Technology services news.
Top AI companies of China
The names of top AI companies of China aren't that well-known though the subject of Artificial Intelligence (AI) crops up in every other technology conversation. Despite their ground-breaking, and sometimes controversial, work that they do, top AI startups and companies in China aren't as well-known to the common man as say, Facebook, Alibaba, Google, Baidu […] The post Top AI companies of China appeared first on Technology services...
The names of top AI companies of China aren't that well-known though the subject of Artificial Intelligence (AI) crops up in every other technology conversation.
Despite their ground-breaking, and sometimes controversial, work that they do, top AI startups and companies in China aren't as well-known to the common man as say, Facebook, Alibaba, Google, Baidu or IBM.
Some of them are very highly valued (and respected) unicorns. Others have shown tremendous inclination and enterprise in fundamental research. What remains common across all of them is their hunger to bring something innovating, something revolutionary, something fast.
Here's the list of the 4 major AI companies from China:
1. DJI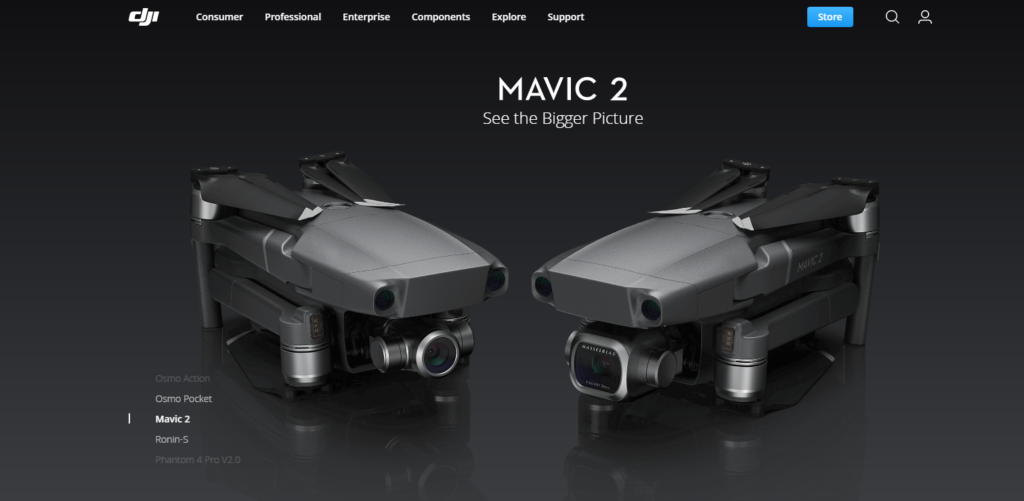 Formal name: SZ DJI Technology Co., Ltd., operating as DJI
Company background: The company was founded in 2006 by Frank Wang, an alumnus of Hong Kong University of Science and Technology. Headquartered in Shenzhen, China, DJI began with drones. Even today, it is a market leader in drones with an estimated 70% market share.
Primary product: Drones
Why DJI matters:
Why are we ranking a drone company in a list of China's most valuable AI companies?
The reason is simple.
Drones have come far from being simply flying cameras. They are becoming smarter in maneuvering. DJI is working hard towards constantly improving its image recognition to avoid objects that a drone encounters during flight. And this – you guessed it – uses AI design principles. Its Phantom 4 drone is a good example there.
Research for its latest models, like the Phantom 4 drone, which uses image recognition to avoid objects, routinely incorporate AI design principles.
But that's not all.
The technology that DJI is using and developing covers three areas simultaneously: drone technology, robotics and artificial intelligence. For instance, DJI is incorporating sensor technology and computer enabled vision in the both the current drones it sells and the next generation drones and devices it is working on.
Apart from the Phantom 4 done, its Mavic Pro is quite impressive as far as AI goes. Apart from the traditional remote controller, the Mavic Pro can also be controlled with gesture commands. It also has the capability to learn – deep learning, technically. Besides that, it has the ability to map the entire environment based on this learning and its image recognition technology.
As per their website, " [their] flying and camera stabilization systems redefine camera placement and motion."
Major products or brands: DJI's Mavic line, The RoboMaster S1, DJI's Phantom 4.
Recent, well-known projects: DJI has teamed up with Microsoft to collect real-time data into a computer, with DJI drones. This has various business and industrial applications, like for oil companies to track flow in pipelines or for power companies to spot faults across its power lines.
Future plans: DJI is looking at educational fighting robots. It is also believed that DJI is foraying into self-driven vehicles and advanced robotics. Considering that it has built serious expertise in image recognition and analysis powered by AI this doesn't sound far-fetched.
Estimated valuation: US$ 15 billion
2. Ubtech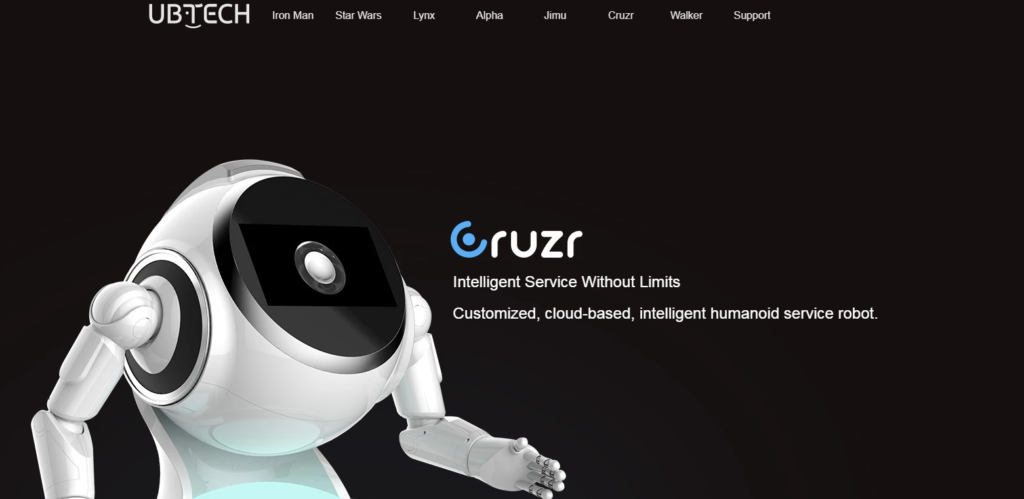 Formal name: Ubtech Robotics
Company background: Ubtech is based in Shenzhen, Guangdong Province China, a city that's favorably called China's Silicone Valley. It was founded in 2012. It had its own share of tough times in the early days.
It has garnered a funding of US$940 million. That's one important reason to place it on the list of top AI companies of China.
It is world's most highly valued AI company today.
Primary product: Robots
Why Ubtech matters:
Ubtech has been rather plucky. The founder James Zhou started out by making the Alpha 1S robot, which were followed by Alpha 1 Pro and Alpha 2. These robots' better motion-control got them noticed instantly.
Two partnerships took Ubtech into the big league.
One was with Apple. In a special arrangement with Apple, Ubtech gets to sell its Jimu Robot, targeted at children. Jimu is a STEM-friendly robot and is available at many Apple stores both within and outside China.
The second came in terms of strategic funding from Tencent, China's internet-technology giant. With a US$120 million funding, Tencent is expected to receive a strong help for its own AI products.
In its search to get children more skilled and scientific in robotics right from school, Ubtech setup a separate division Ubtech Education. Partnering with Pitsco Education, aims to provide various schools access to Yanshee humanoid educational robot, under its STEM+C drive (Science, Technology, Engineering, Math + Computer science).
Major products or brands: Cruzr, Jimu, Alpha
Recent, well-known projects: Lynx, a robot with Amazon Alexa's features.
Future plans: Ubtech is looking at creating large, human-sized robots, or humanoid robots. This need all the computer-aided vision, motion control and AI algorithm technology Ubtech can put together. Also on anvil are plans to create a robot security car. It is also planning to usher a solution for the service robot industry by 2021.
Estimated valuation: US $ 5 billion
3. CloudWalk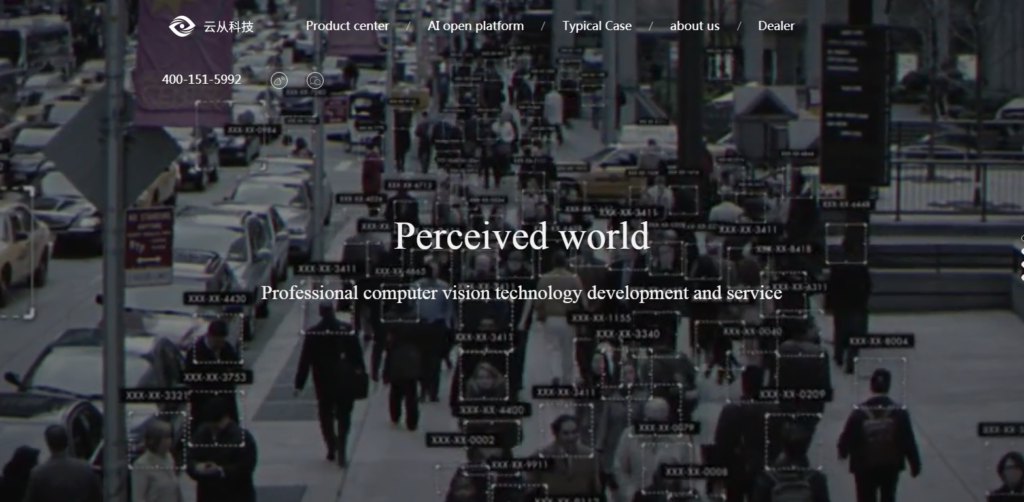 Formal name: CloudWalk Technology Co. Ltd.
Company background: CloudWalk was founded in 2015. The founder Zhou Xi comes with a strong training in artificial intelligence and pattern recognition.
CloudWalk was incubated under the ongoing startup incubation program of Chinese Academy of Sciences (CAS), an institution that was founded way back in 1949. Currently, the CAS oversees 124 institutions and 5 universities, including the UCAS.
In its early days, CloudWalk supplied facial recognition technology to China's border control. Today, out of the 34 provincial level authorities in China, 24 use this facial recognition terminals along with scanning door entry services.
Primary product: Facial recognition software
Why CloudWalk matters:
In a span of barely 4 years, CloudWalk has found a sizeable number of uses of its core technology – facial recognition. Banking and financial institutions have used this technology the most.
Bank of China, the world's fourth largest bank as per assets, uses CloudWalk's face recognition for identity authentication. This authentication is used in the device that issues resident health cards. In all, 100 large-scale banks operating in China.
The Agriculture Bank of China uses CloudWalk's facial recognition services for efficiency, accuracy and security of its self-serving machines.
CloudWalk was tasked to build two major projects for China's National Development and Reform Commission. The first one of this was Infrastructure Public Service Platform" while the second one was "Facial Recognition System Industrial Application Platform."
AI, through facial recognition, helps governments and institutions in improving service efficiency, track employees and identify criminals.
CloudWalk has also designed and developed big data platforms for public security, by recognizing airline passengers.
Major products or brands: Face recognition terminals, infrared binoculars scanning machines
Recent, well-known projects: Cloudwalk, some time back, inked a deal with Zimbabwe that will build a country-wide facial recognition database to assist all major transportation hubs in monitoring fleet movement. The system will lead to the creation of a national facial ID database.
Future plans: CloudWalk's research is looking at developing deeper competence in 3D face recognition and person re-identification.
Besides that, it is working with Aston Martin Rapid S and LeTV LeSee for future cars that read the drivers face and change settings accordingly.
Estimated valuation: US $ 2 billion
4. SenseTime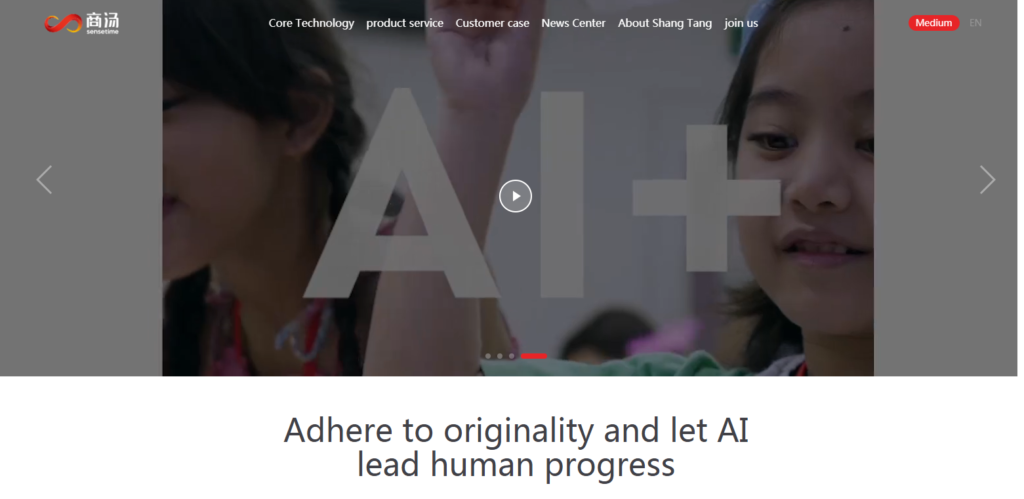 Formal name: SenseTime Group Limited (Shangtang Technology)
Company background: SenseTime was founded in 2014 in HongKong. Probably because one of its key founders is a professor, SenseTime encourages extensive research.
Primary product: AI service provider
Why SenseTime matters:
Google AI companies China and SenseTime will likely appear in all the results. Multiple reasons account for why SenseTime is counted in one of the most important AI companies from China.
SenseTime remains a little ahead of its time. In 2014, it displayed its face-recognition system DeepID. This was the first system that had an accuracy rate in face recognition than human eyes (Facebook's system came later).
Its stress on research can be gauged from the fact that it has been producing research papers consistently.
In 2016, for instance, a total of 16 papers from SenseTime were accepted at the CVPR Conference alone. What's more, the company won the first prize in object detection and scene analysis, in addition to video object detection.
SenseTime has a number of important technological partnerships. It partnered with Qualcomm for on-device intelligence. This is believed to have advantages like real-time performance and privacy protection over cloud-only implementations.
SenseTime has partnered with E-drive along with Shanghai Municipal Corporation for building intelligent municipal transport system. The tie-up found fresh applications of face recognition – like identifying fatigue of drivers with face scanning technology.
Besides this, SenseTime has partnered with Honda for autonomous cars of the future. In February 2018, SenseTime announced joining hands with MIT to further research in AI.
Major products or brands: Algorithm provider for smart cities, smart phones, online retail and much more.
Recent, well-known projects: Shangtang has become the fifth largest national artificial intelligence open innovation platform after Aliyun, Baidu, Tencent and Keda Xunfei.(Source)
Future plans: AI Open innovation and deep learning
Estimated valuation: US$ 1.5 billion
The post Top AI companies of China appeared first on Technology services news.